UPDATE: Since writing this post I have received so many questions regarding the hardware.  I have searched and searched for another alternative and found an inexpensive option for barn door hardware on Amazon here.  This is a great affordable option if you don't want to build the entire thing yourself.  However if you do please refer to the instructions below.
Living in a remodeled farmhouse we have lots of little nooks and crannies that I'm always trying to make function better.  So building a sliding barn door was the perfect solution for a recent small space dilemma.  Sliding barn doors are extremely popular in home design.  They are great when traditional swinging doors are cumbersome.  Unfortunately the tracks, doors and hardware can be super expensive.  And I don't know about you but my budget is always limiting my DIY material purchases.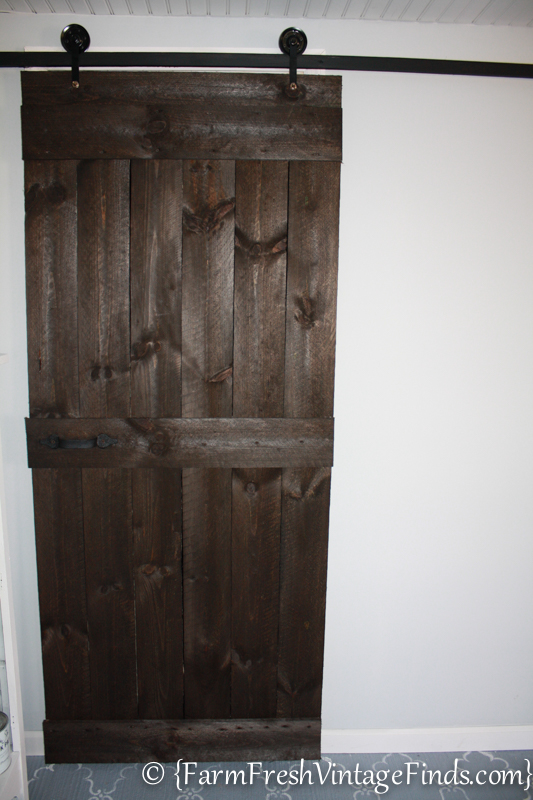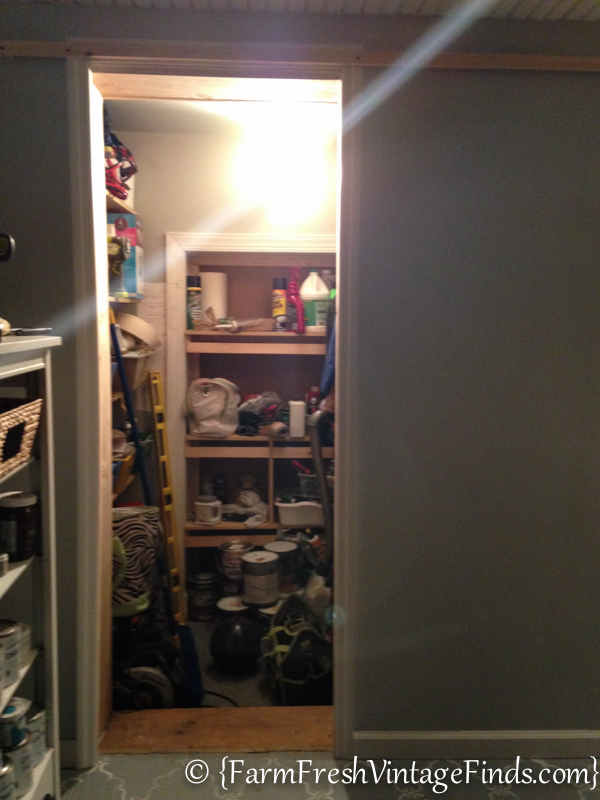 For instance in our garage we have this wonky little storage closet.  It used to be a porch entrance before we built our garage.  It holds things like car cleaning supplies, paper towels, brooms a few tools and other things that aren't so pretty.  We had originally planned to just leave the opening as a framed doorway but after looking at this mess for about 5 minutes I knew that wasn't going to work.
Enter Prince Charming, who can always tell by the look on my face when things just aren't going to work.  Actually I know he was seceretly thinking the same thing cause after he looked at it for a few minutes he said "how about I build one of those barn doors you like and hang it up here".  BINGO!  Now you're talking!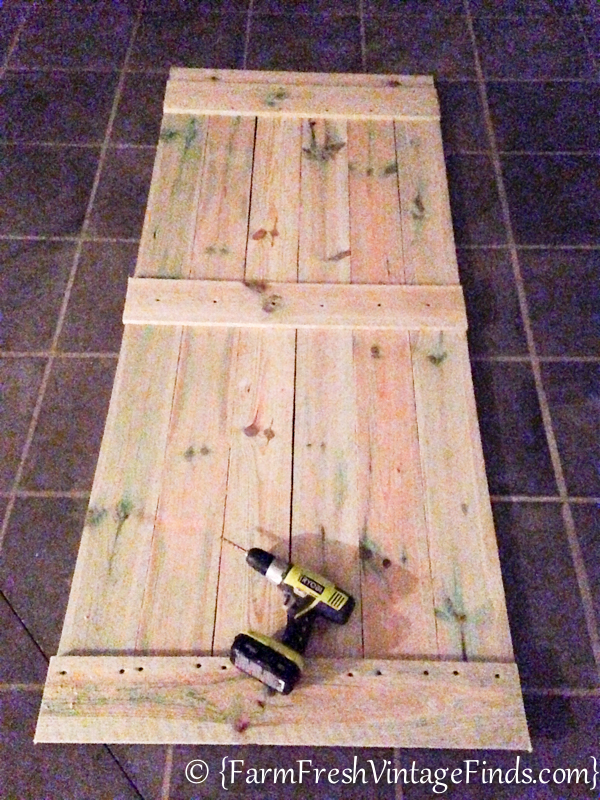 Prince Charming has this amazing ability to engineer things in no time flat.  It hasn't always been this way but over the years, living on a tight budget, he learned how to do things for our family out of necessity and has discovered he has some mad skills and grown to enjoy the process.  We've also acquired tools little by little over the years and that has helped out tremendously!  Now I realize not every husband is handy with power tools and I'm grateful that mine is but I also want everyone to understand that Prince Charming didn't just pick up a circular saw and go to town building things all over the house.  Remember we've been working on this farmhouse since 2002!  These things happen over time ladies.  If you want to get things done around your house let your husband buy himself some power tools!!!!  Or buy them for him!  There's something about power tools that make men happy.  Get your man some power tools!
Ok back to business.  For this project you will need:
10 Dog eared fence boards-$1.57 each
2 Clothes Line Pulleys-$5 each
(*****You can purchase the pulleys here *****)
1 Tongue and Groove Board-$1.49
We chose dog-ear fence boards because they are lightweight and fairly inexpensive at less than $2 a board.  Lightweight is important because of the wooden track we created.  We measured our door opening and then cut the boards to fit with a few inch over hang on either side.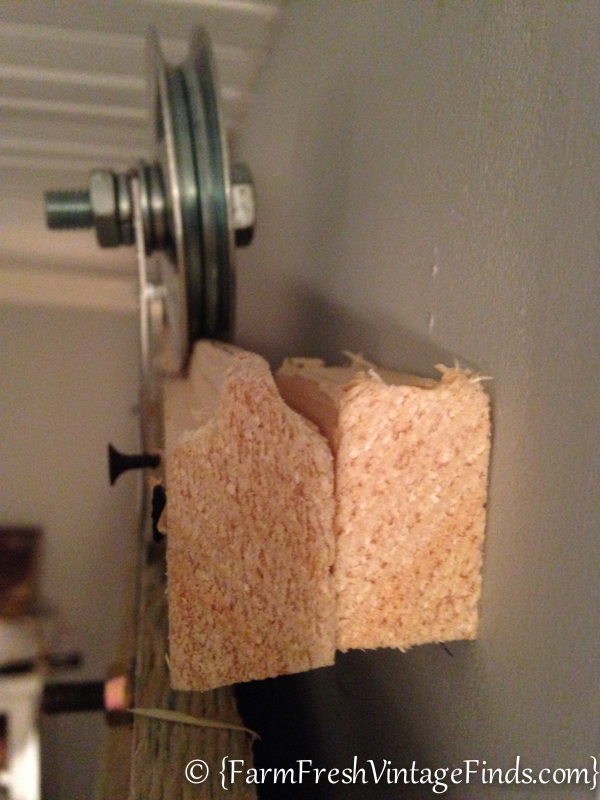 For the track we used a piece of tongue and groove lumber that we had left over from another project.  The tongue was perfect for the….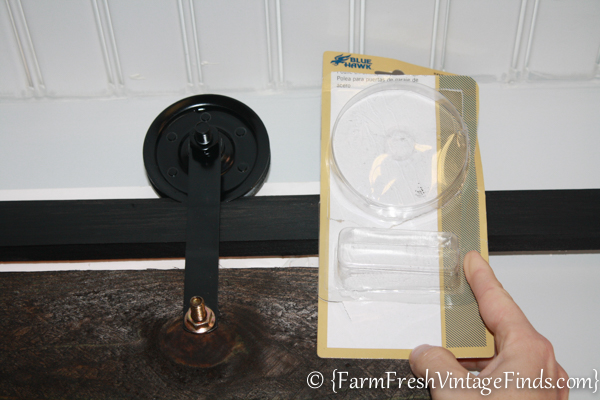 sliding mechanism we purchased which consists of two clothesline pulleys.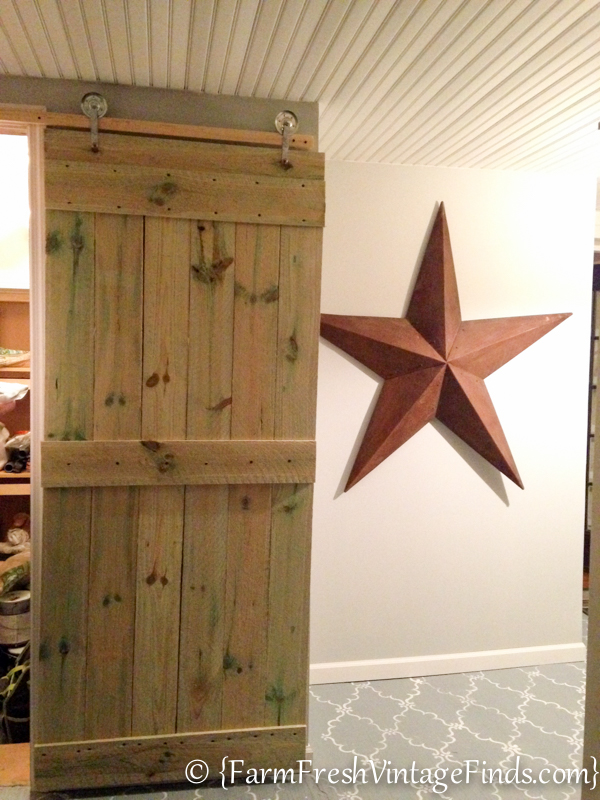 Once the door was installed we rolled it back and forth several times to make sure everything was going to work properly.  Prince Charming did end up putting a screw at either end of the track so the door can't accidentally be slid off.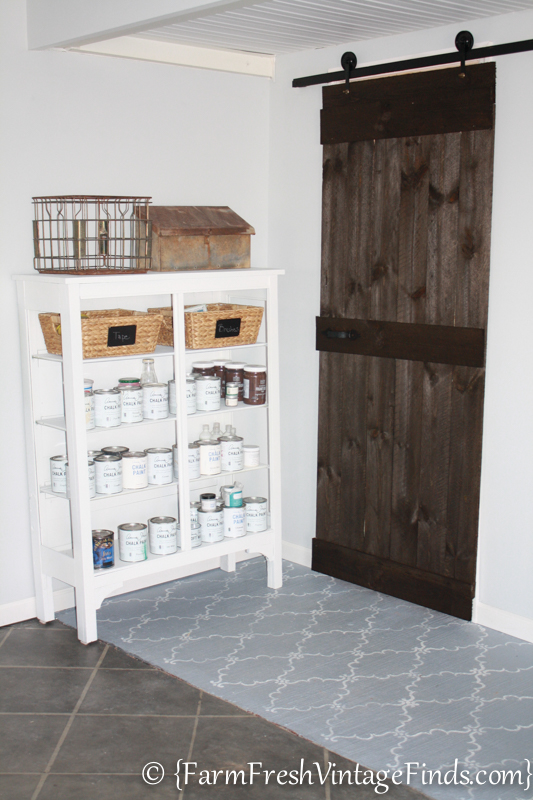 Lastly we painted the pulleys and the wooden track with gloss black spray paint and stained the door with General Finishes Java Gel stain (which by the way is my absolute favorite color!)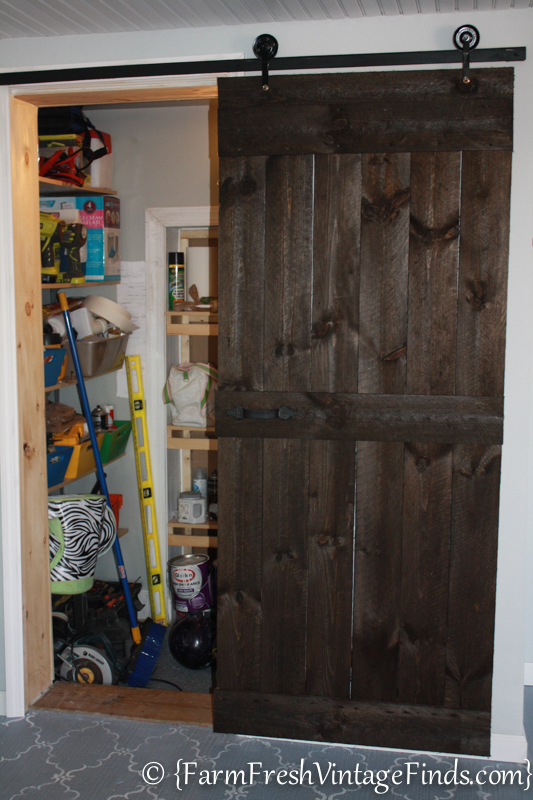 And there you have it!  A sliding barn door for under $20!  Now no one has to see our mess and all is right with my world once again!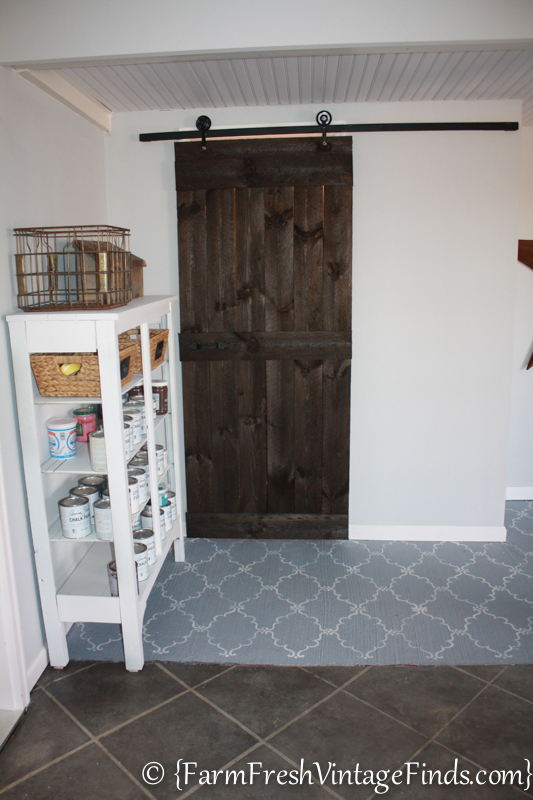 Thanks for taking the time to join me today.  I welcome your questions and comments.  See you next time!
Affiliate links provided for your convenience.
None found.