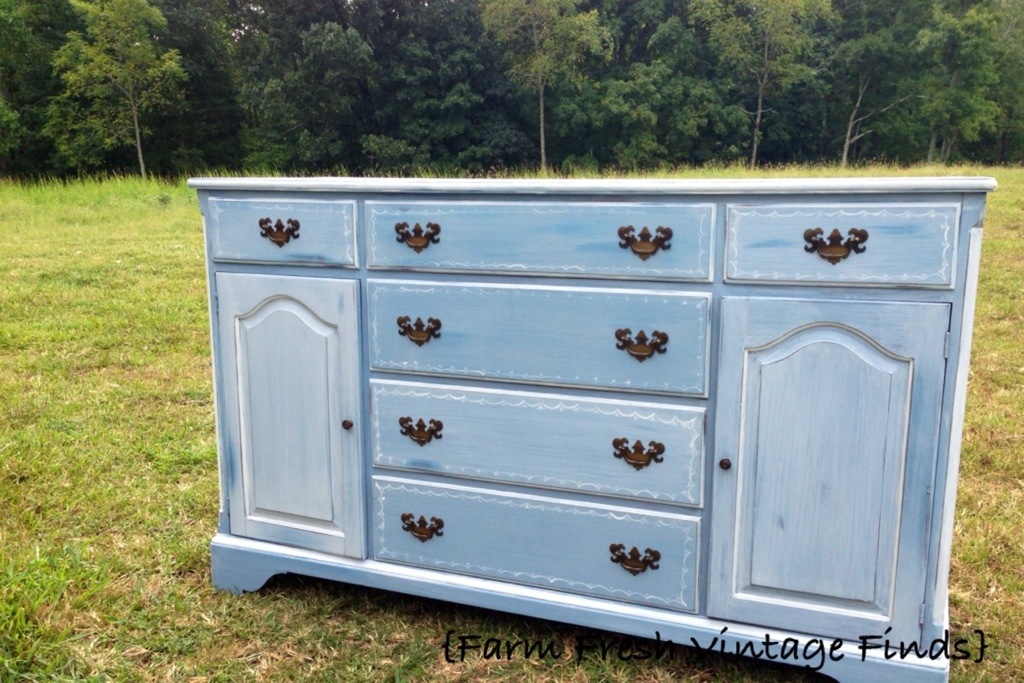 As you may have read here I just became a Miss Mustard Seed Retailer!!!!  I love this paint.  And even though I've been using it for about a year, I hadn't had the chance to try out all the colors until now.  For this project I decided to try French Enamel and then ended up adding some Ironstone as well.  Let's take a look at how it all played out.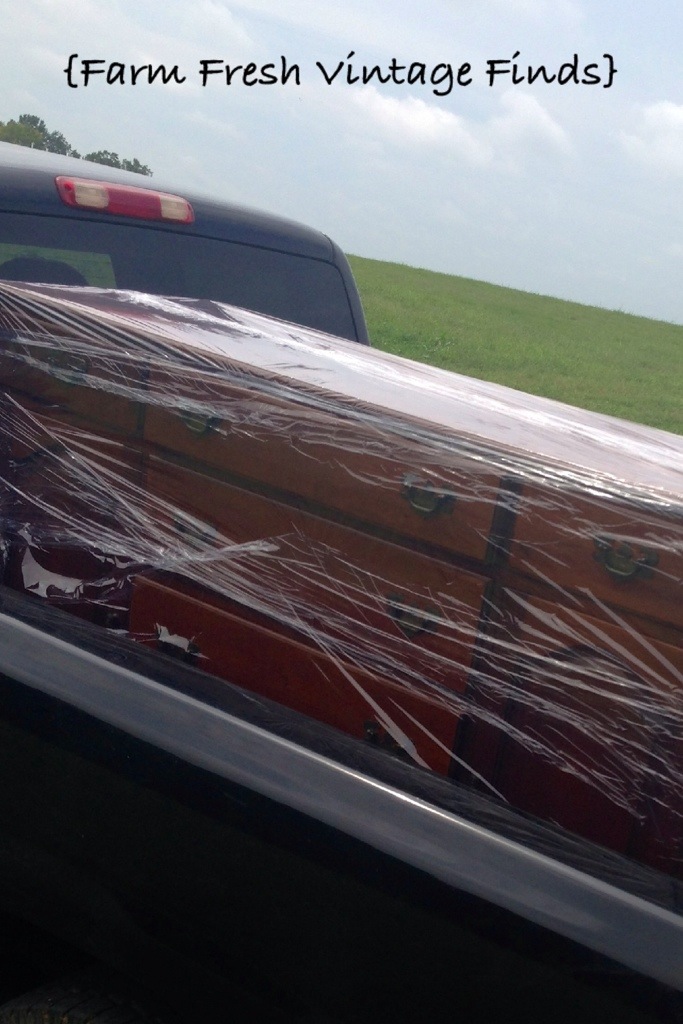 My father-in-love, who lives five minutes away, calls me quite frequently.  Most times he says something like, can you come and get me and take me to so and so's field to get my tractor, or send "Prince Charming" (that's what I call hubby) over here to help me fix my tractor or can you look up the phone number for….you get the idea.  But this time oh this call was one of the good ones.  It's started out like this…
Father-in-love- "Hay" Beth
Me-Yes??????
Father-in-love-"Hay" listen, I'm up here picking up this bush hog I bought and this lady's got this furniture for sale.  It's a "real nice" dresser and a buffet and this little table.  You want me to buy it?
Me-(thinking-hmm this could be really awesome or a complete disaster.)  Throwing caution to the wind I reply…  Sure!  Why not?
So when he pulled up with this and this, well I had to hug him!  I felt like finally we're seeing through the same eyes.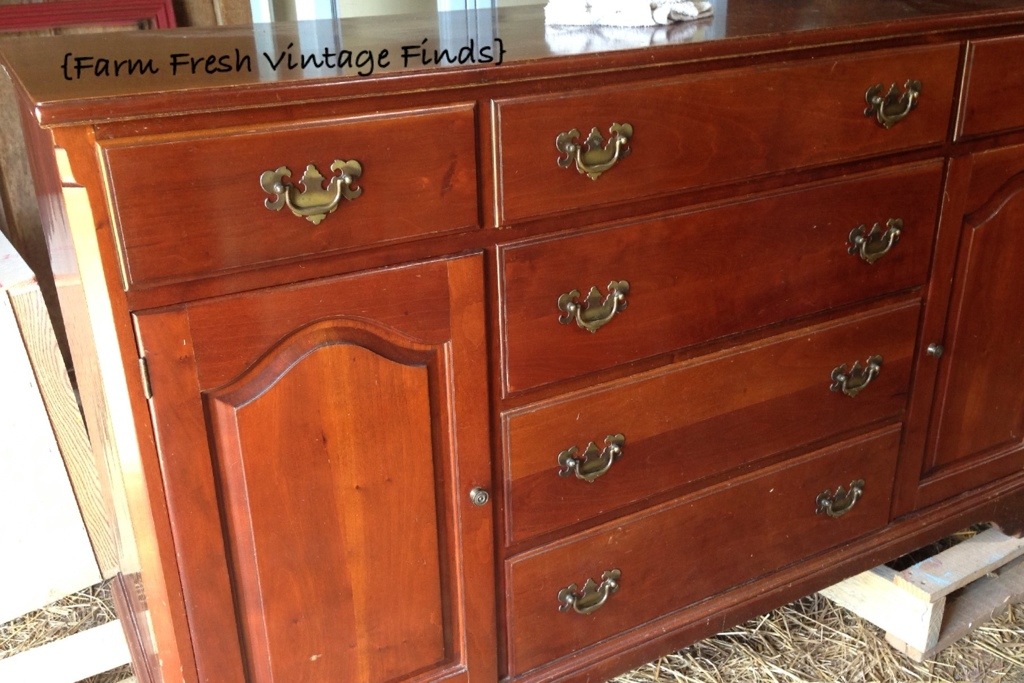 Over all this piece was in great condition, dove tail drawers, solid cherry, all hardware intact.  But it was heavily scratched and needed refinishing.  Now I love refinishing wood as much as painting wood but I like to look at a piece for awhile and let it "speak" to me.  I saw all the detail on this piece and really felt like all the details needed to be brought out.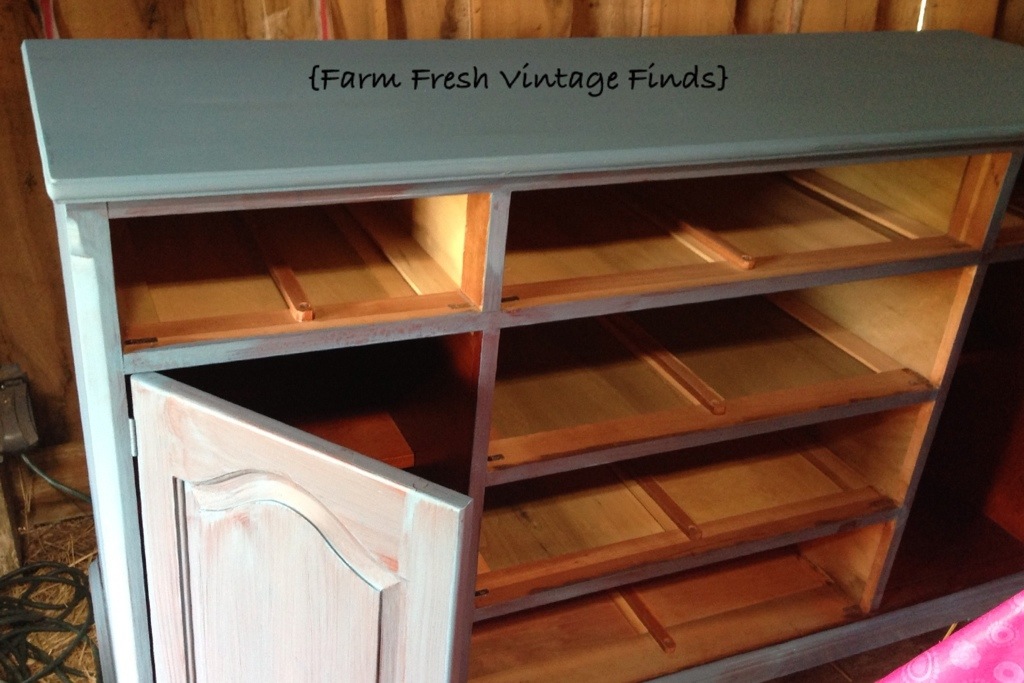 So I chose to paint it with milk paint.  I know.  I know.  It's solid cherry.  Please don't send me ugly emails telling me that I've ruined this beautiful buffet.  Guess what?…the wood is still under there!!!!  It' just wearing a beautiful coat.  Of paint.  OK back to the ranch…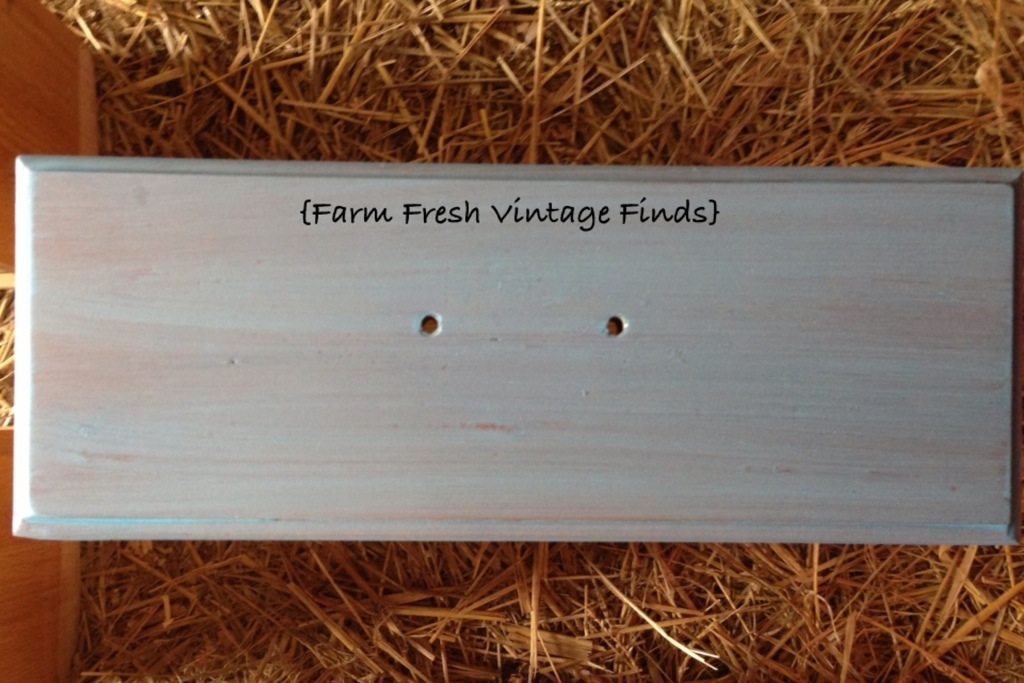 When the first coat of milk paint goes on it can look streaky.  Hang in there after the second coat it will really come together.  Trust me.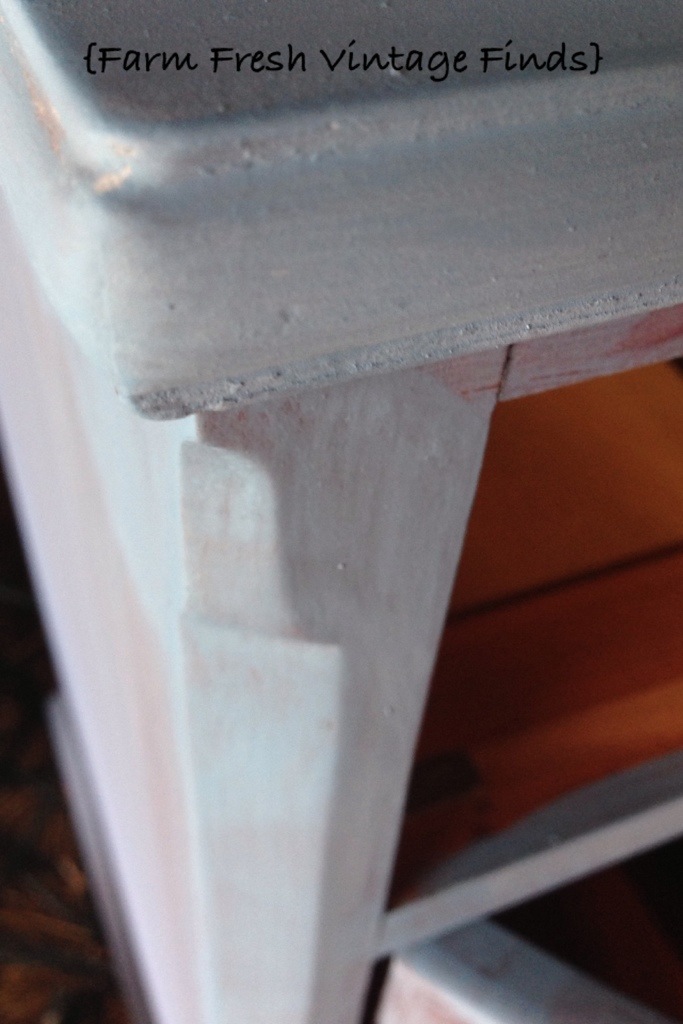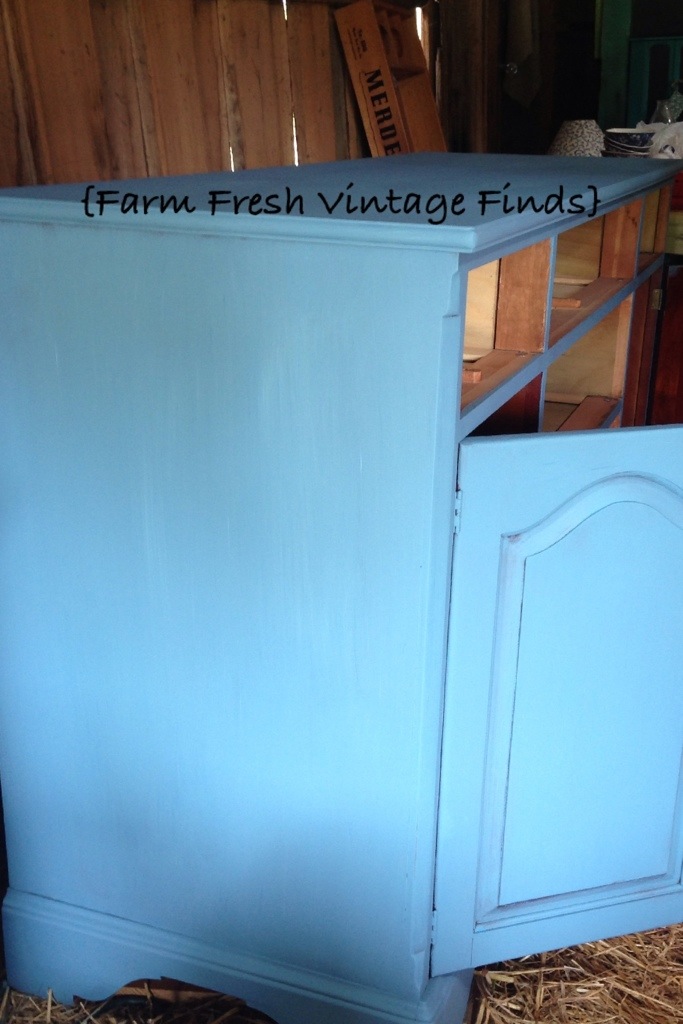 See two coats and it's looking much more solid.  I love this blue it's so soft and soothing.  However as I stepped back and looked at it I really felt like I needed to tone it down a bit.  I want this piece to be versatile as it's for sale and at this point I'm still wanting to bring out all those little hidden details and character too.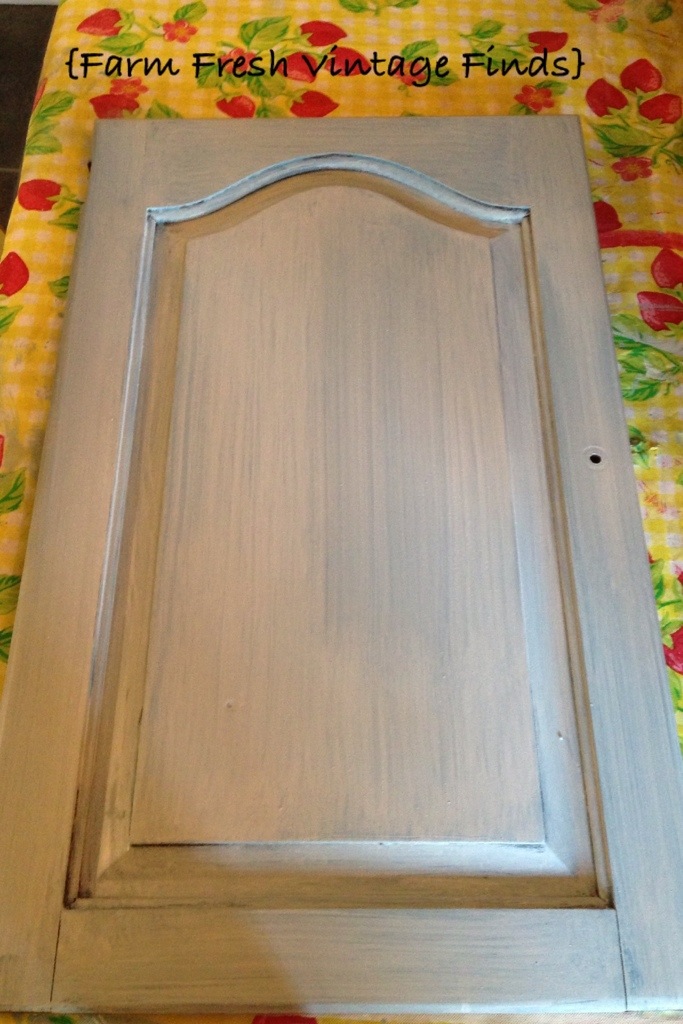 Enter Ironstone.  This color is wonderful for doing a wash effect over a color to tone it down a bit.  I did one coat on the entire piece.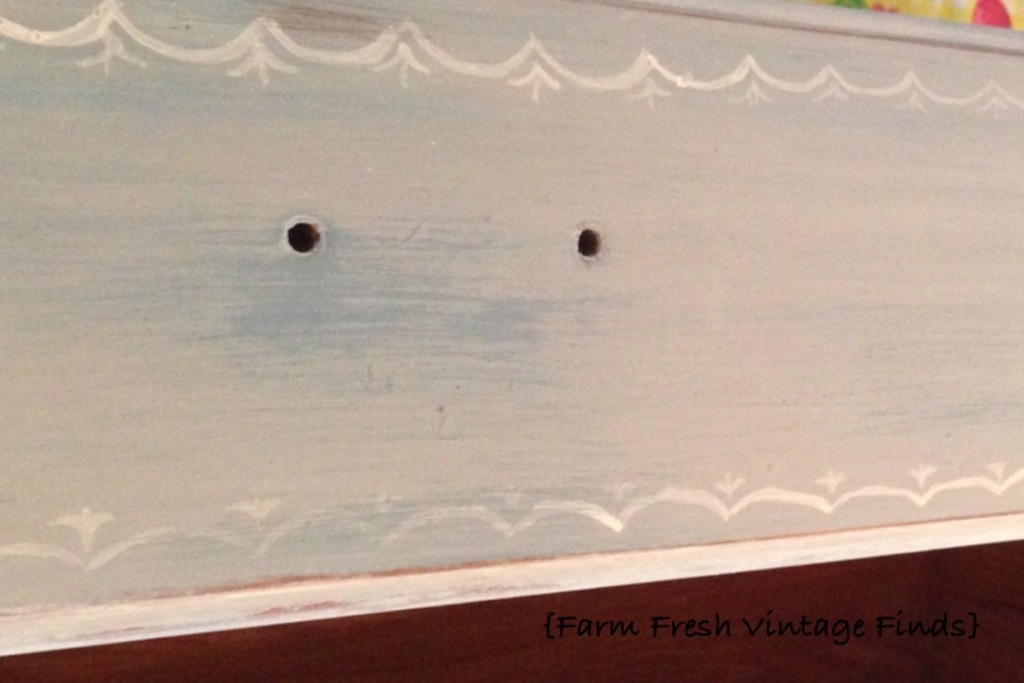 Then I went back over the drawers and did a little free hand painting on them just for fun.  It's freehand so it's not perfect or uniform.  Just like me.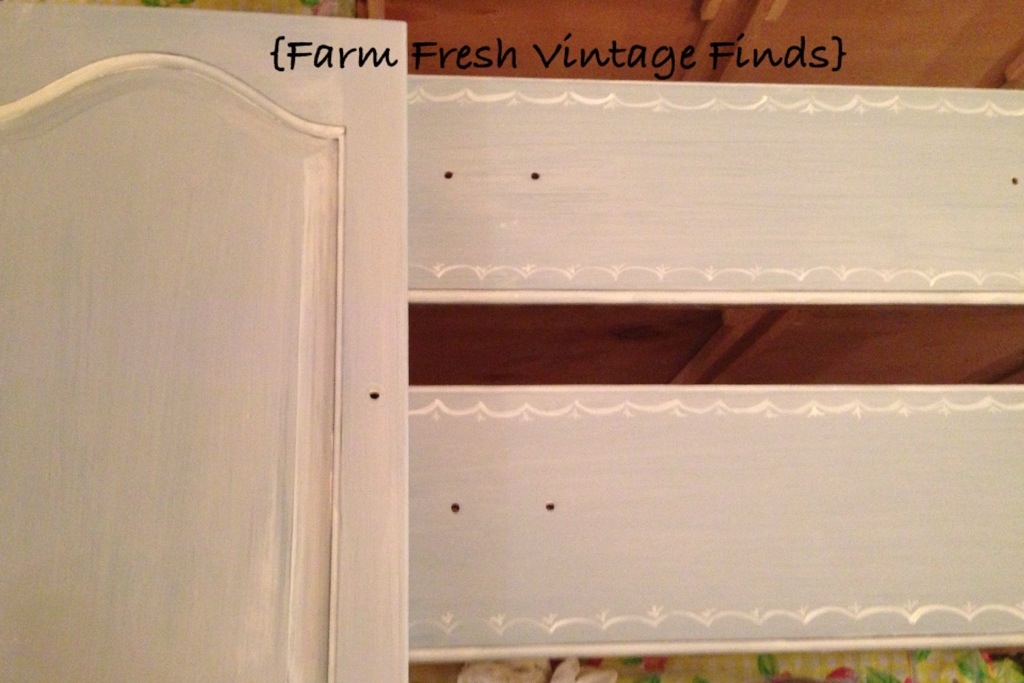 I decided not to add the extra detail to the doors since they had the curved inset anyway but to instead just highlight the grooves a bit.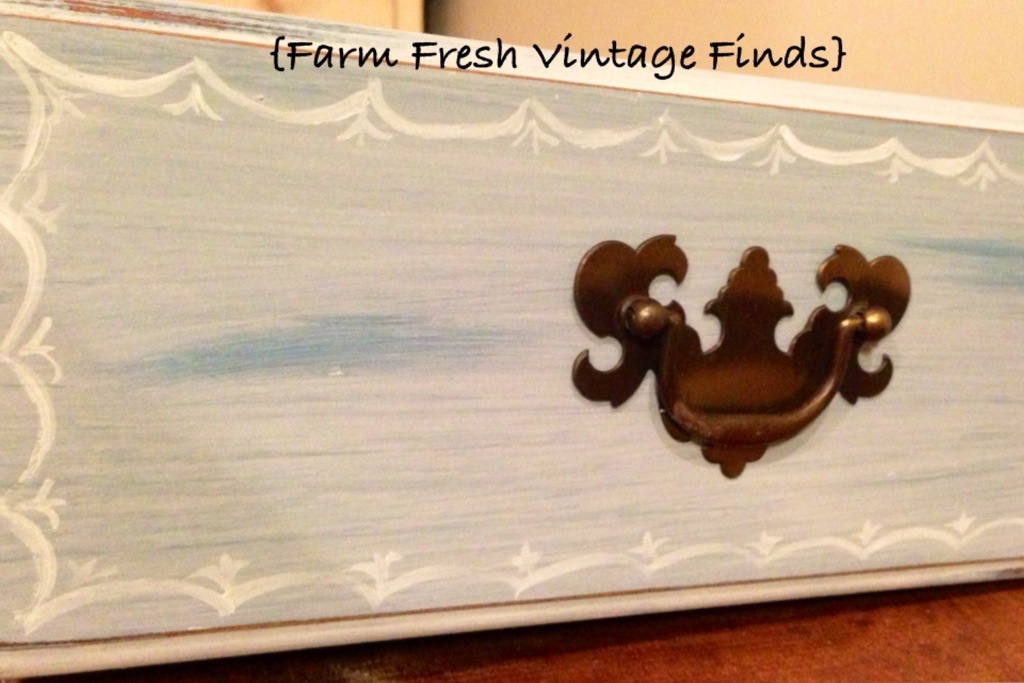 As far as hardware call me crazy but I really like this original hardware.  There's just something about it that I felt like really worked with what I had done.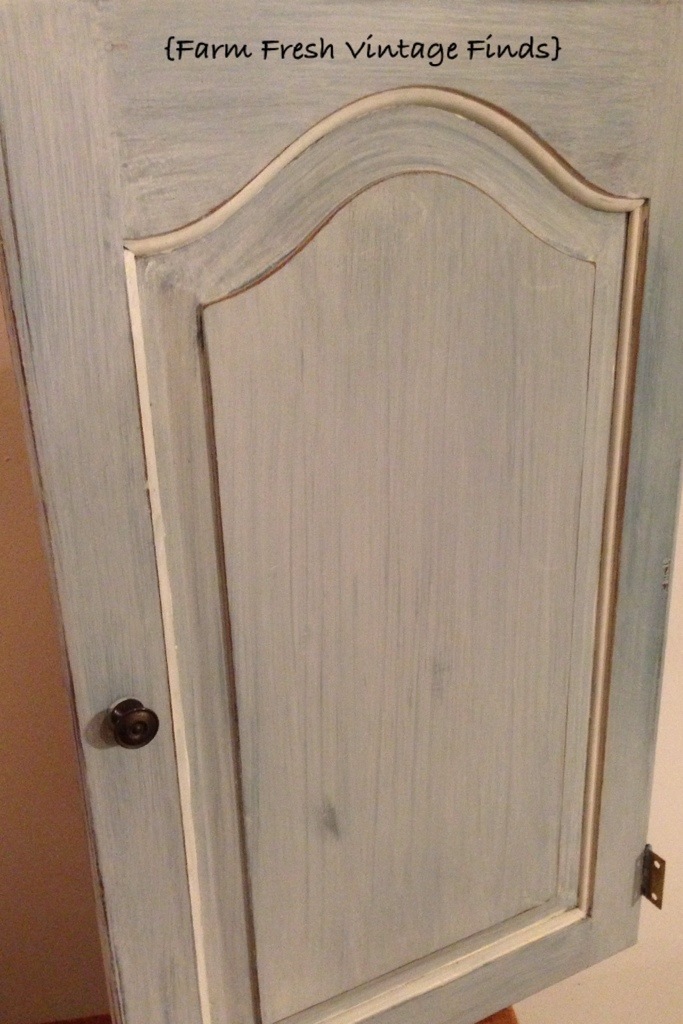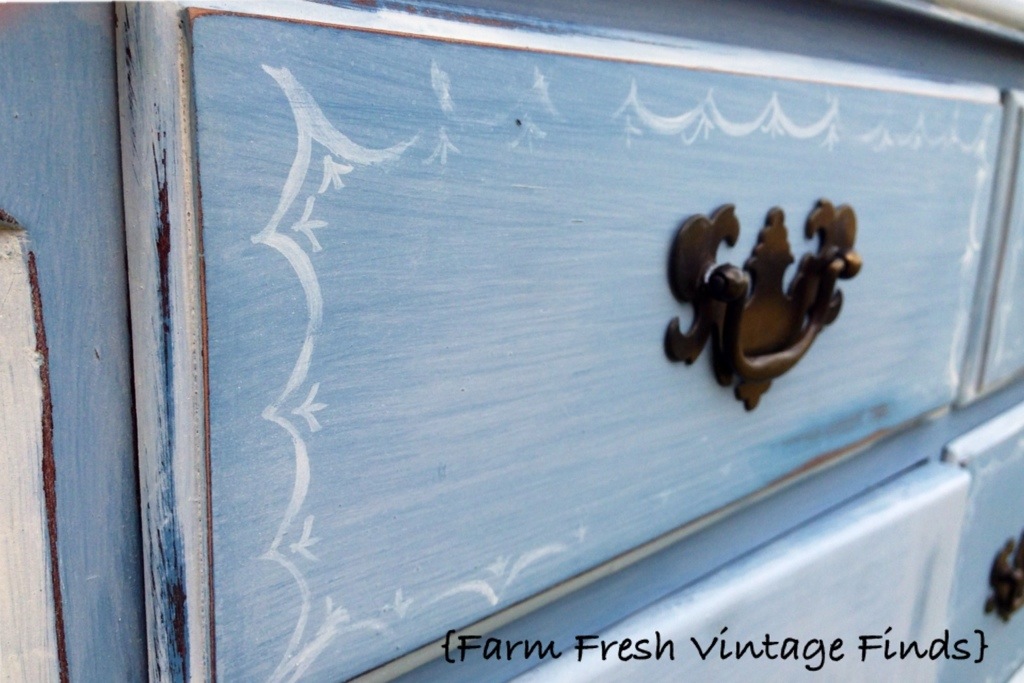 I highlighted the corners and facing of the top, drawers and doors with the ironstone as well.  I just mixed a little stronger to make it more bold than the wash.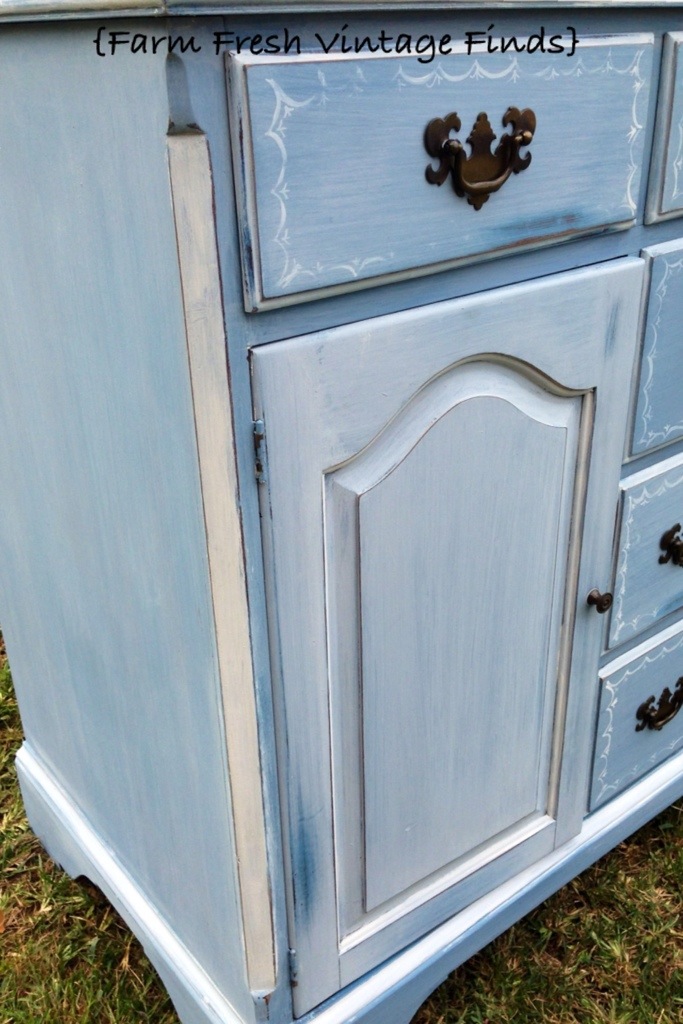 The doors ended up being a little lighter than the drawers.  For me this worked out perfectly.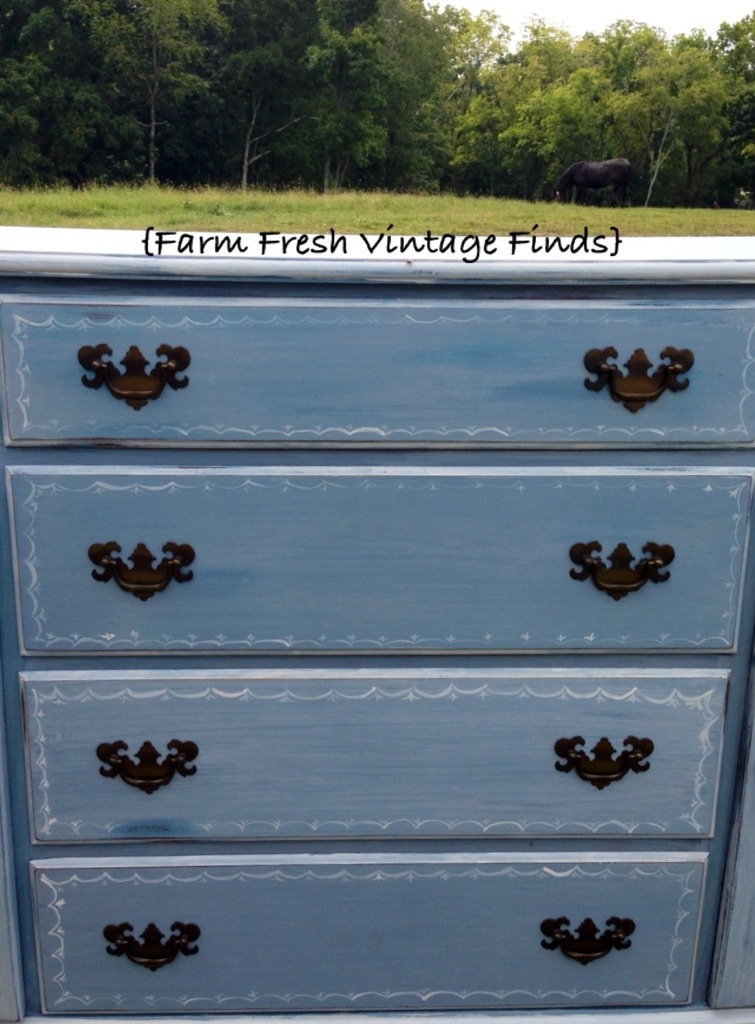 Then once I was all done painting I used the white wax to go over the entire piece and seal it.  Miss Mustard Seed's White Wax is a fairly new product.  I like it because it adds just a bit of softness to the piece.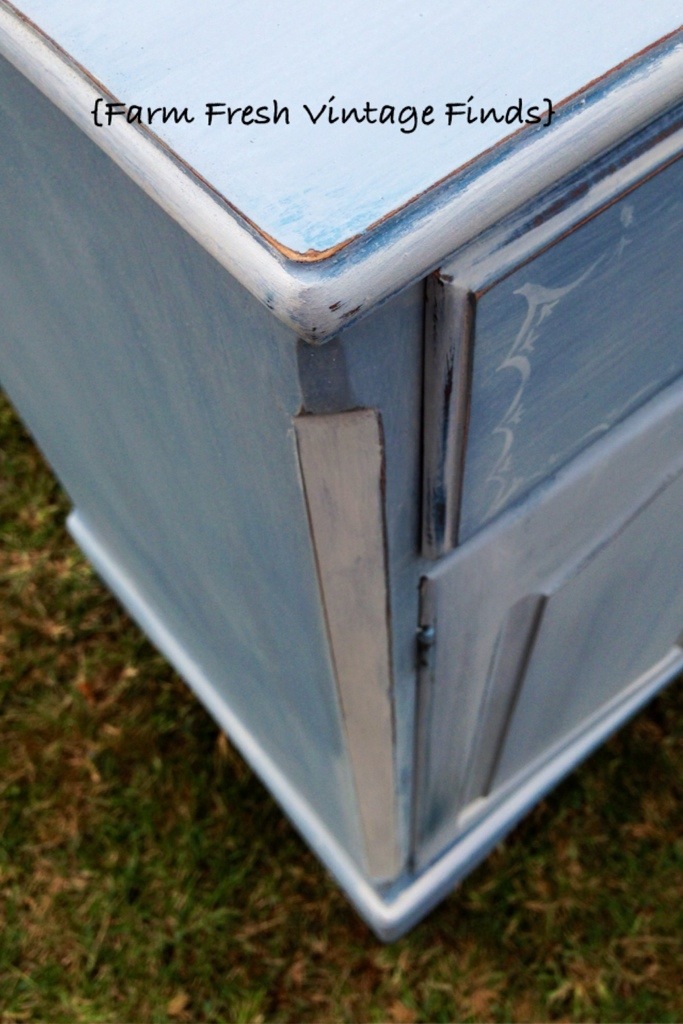 You can see in the photo below how the white wax over the distressed wood creates a soft milkiness.
This piece has tons of great storage and I hope someone falls in love with it as much as I have.  Honestly, this is one I'd keep if I had a place for it.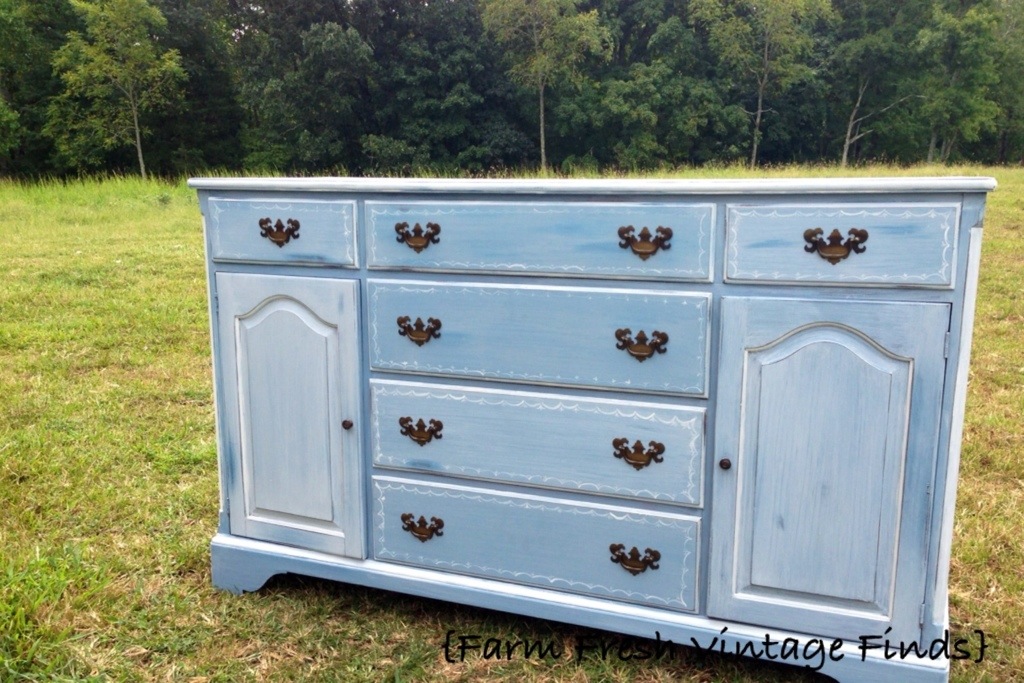 Also don't forget to subscribe to get all the latest info delivered directly to your inbox and please check out my Facebook page.
Thanks for reading and commenting!