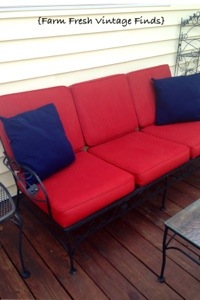 I've heard people say you can paint fabric with Annie Sloan.  But never did I believe it would actually work and look good.  Well never say never.  Hopefully by the end of this post you'll be ready to paint some fabric too.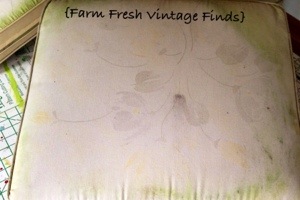 I bought this patio furniture at a flea market while on a pickin trip a year and a half ago.  I have been looking at these cushions ever since.  Aren't they beautiful?#!  I know, embarrassing isn't it.   I really can't believe I've looked at them for that long.  I don't think that in the time they've been on my porch they've ever been sat on.  It's that bad.  I thought I'd break out my sewing machine and sew new ones but let's face it…..that's ALOT of work and I'm just not up for it these days.  I was going to throw the cushions away and then I thought no wait I'm going to paint them.  What have I got to loose?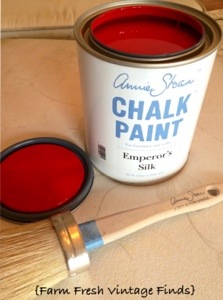 Enter Annie Sloan Emperor's Silk.  This is a bold red that when it dries has just a hint of burgundy to it.  Now keep in mind that while I have this "bright" idea the "hubs" is snickering in the background.  Making remarks like are you really going to blow 40 bucks on a can of paint for those hideous things?  I think he know s that's just going to motivate me.  Press on my friends…press on!
Sometimes I use my DIY knowledge of building and home repair (we used to be house flippers) indoors.  I figured that because these cushions were so dry I'd spray a little water on them, you know like you do if you're going to paint concrete, and that would keep them from soaking up so much paint.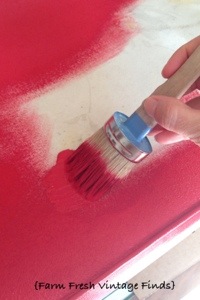 It worked!  The paint went on so smooth I could hardly believe it!!!!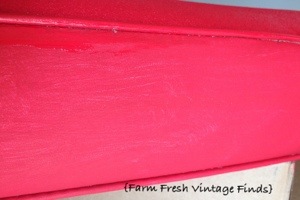 These cushions are made of cloth on the top and vinyl on the sides and bottom.  The top (cloth) took 2 coats and the sides and bottom (vinyl) took 2-3 coats.
I then took them outside and set them in the sun to dry.  I also wanted to see if the paint would crack in the heat.  Guess what….it didn't.  It stuck like glue. NO CRACKING!!!  Whoop!  Whoop!  We've now had 3 rainstorms since I painted and awful humid heat with full sun in between and still these cushions look awesome.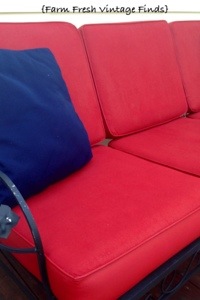 So there you have it.  Needless to say the "hubs" ate his words.  Hee hee hee.  I hope this will motivate you to go out and paint your cushions instead of replacing them with new ones.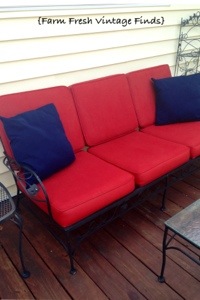 Linking up to Jennifer Rizzo