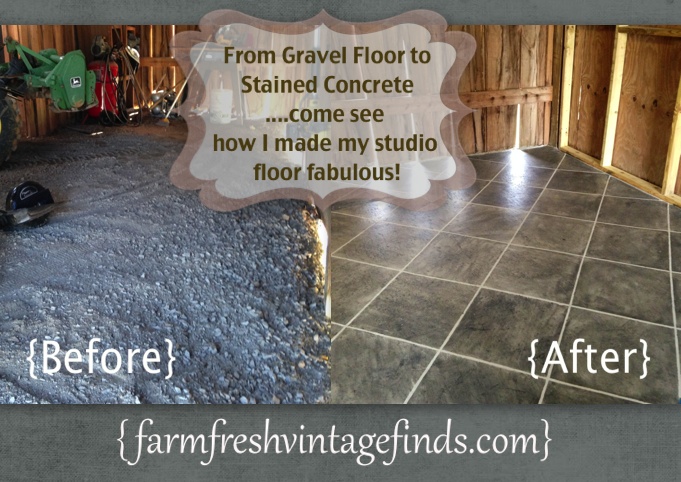 UPDATE~See the finished floor here.
Lately I'm so busy working on projects I don't have time to blog about them.  It seems as though I get a schedule going and "find my groove" and then life happens and blows everything out of the water!  Don't get me wrong…..I'M NOT COMPLAINING.  Quite the opposite actually.  I'm just so busy lately that it's hard to keep up.  Forgive me?  Now on to today's exciting, make up for not posting, long winded tutorial.
The other day I stained the new concrete floor in my studio of the barn!!!!  I want to type that again…..I stained the floor in my NEW STUDIO!!!!!  Why is that a big deal you ask?  Well because I have been working on gravel and makeshift workbenches made of sawhorses and blocks of wood and and and…..  Or I've been taking things to my dads garage to work on them FOR TWO YEARS!!!  For two years I have been working in this……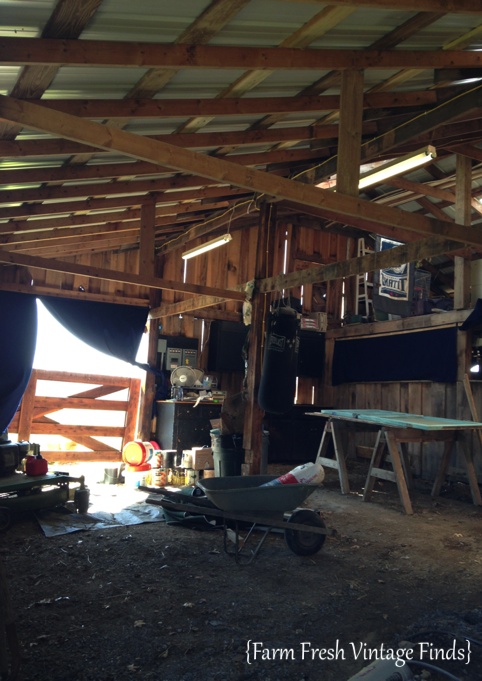 Once again let me make myself clear I'M NOT COMPLAINING.  I have a wonderful space that lots of people would give anything to have and I'm grateful.  My husband rebuilt this barn BY HIMSELF from a pole barn that was on our property when we moved here.  We had no tools at the time so he used a hammer and nails!  Have you tried to hammer a nail through old barn lumber?  It's not easy.  Anyway it has served us well as it is and the fact that we are able to continue to "fix it up" is very exciting and fun.  But I've never blogged about it because, well who really cares what my barn looks like, right?
So the other day when I posted on my Facebook page about  all of the "fixing up" we were doing, and the concrete staining I was surprised when I got an overwhelming response.  I wasn't even going to blog about it!  But everyone was so kind about it and asked so many questions that I promised myself I'd find the time to jot it all down and make a blog post happen.  
This embarrassing photo is where it all starts.  Things were piled EVERYWHERE!  Embarrassing but true.  I find that I'm the type of person that has really good intentions to get organized but when there's nowhere to put something I just put it down.  Not good.  Not good at all.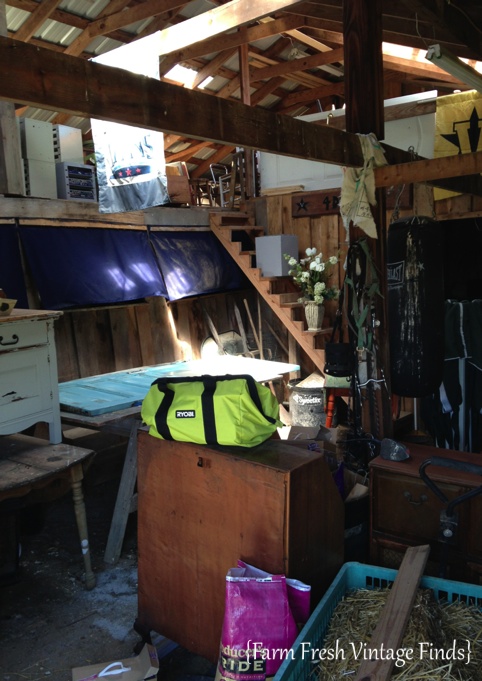 This sad sight, last winter, made hubby and I decide that something had to be done.  So we saved our pennies these last few months and made a plan.  We decided we would take the sides off the barn and close most of it in.  Pour a concrete floor and FIX IT UP!  We got rid of a TON of junk and put the rest of it outside.  Did you see the photo above?  We moved all of that!  In one day!  I'm tired just thinking about it.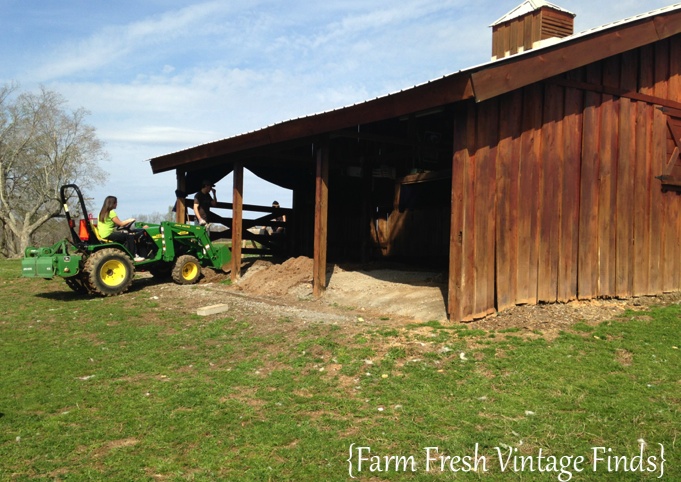 Then it was time to level the ground.  (Thanks for the tractor dad!!!!)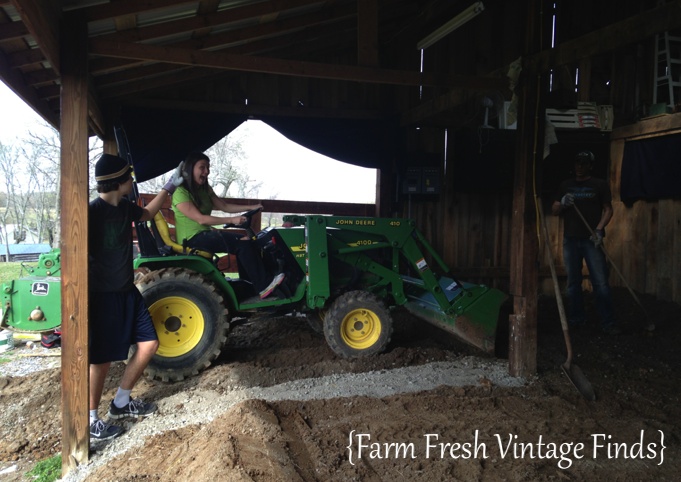 Here I am on the tractor and yes that's my teenager putting an "L" on my forehead because I embarrass him.  Imagine that.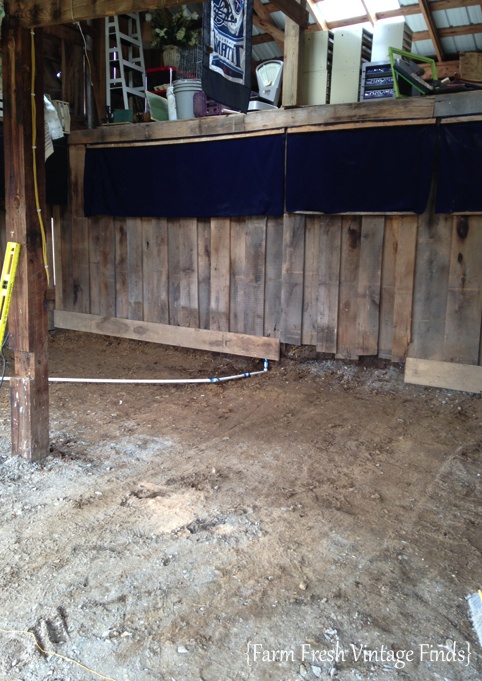 Once all the floor was raked and level and the waterline was secure it was time for the concrete truck!!!!  Oh happy day!!!!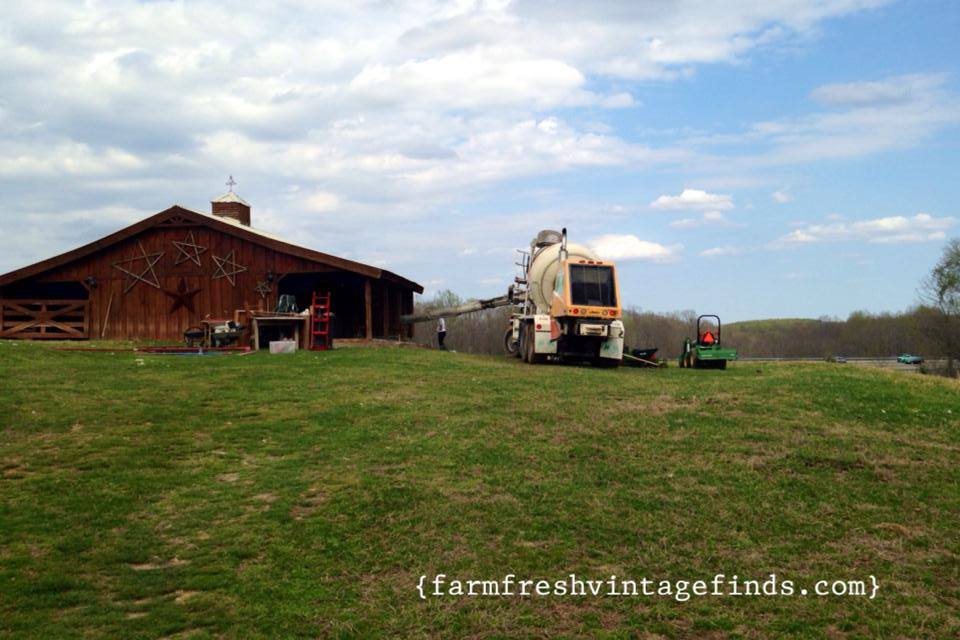 Now I'm not gonna lie we hired help for pouring the concrete.  We're risk takers but we're not stupid!  The guy was amazing and had all the right tools to get everything level and smooth.  He even took a broom and made the ramp rough so that it wouldn't be slippery.  Wasn't that nice.
And then about 15 minutes after everything was nice and smooth and PERFECT…..it started to rain.  I'm not talking sprinkles here friends….I'm talking out of no where, run for the hills downpour!  You know the kind with wind and lightening.  And the next day it didn't look so smooth anymore.  🙁  But no worries…there's a fix for that.  Our concrete angel came back out and put a resurfacer on (you can see it in the lower right corner below) and then we were cooking with crisco again!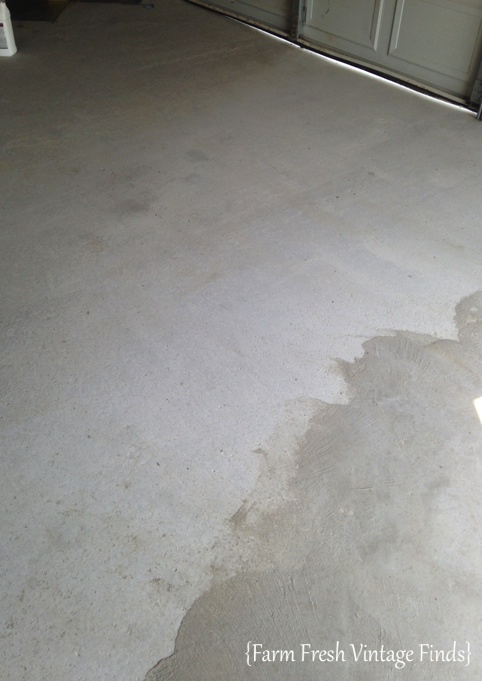 Now if you're getting bored this is where the story gets fun.  I have always liked stained concrete.  And I've wanted to try my hand at it for a long time.  So off to Home Depot I went.  On a mission to figure out what I needed to make it happen.  And then this happens.  I get to the stain section and there are all these choices…….  WHAT!  Don't they know I have trouble making these kinds of decisions!?  HELP!!!!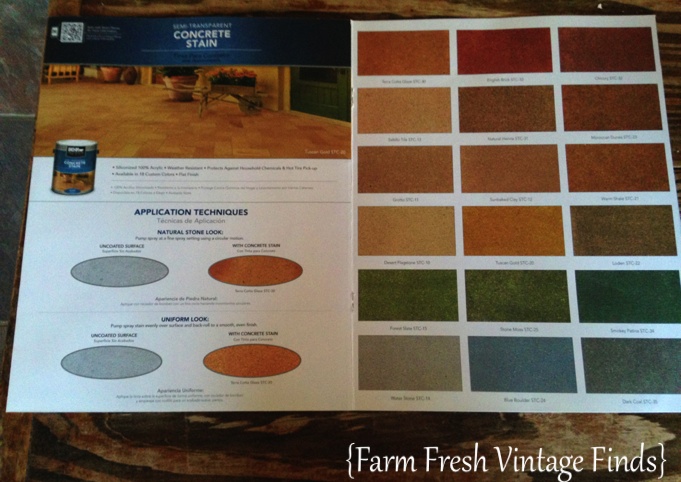 So which one will I choose?  Be sure and read my next post to see what I picked and how everything came together!
None found.