Today I wanted to share a makeover I did on our front porch this past summer.  I know it's winter and reading a post about something outdoors may seem a little strange but that's one of the reasons I decided to write about it today.  One because it's so gloomy here and I need to remember that Spring is going to come back and two because one of the most frequent questions I get is about painting fabric.
Let's start at the beginning with a photo of how our farmhouse looked when we bought it.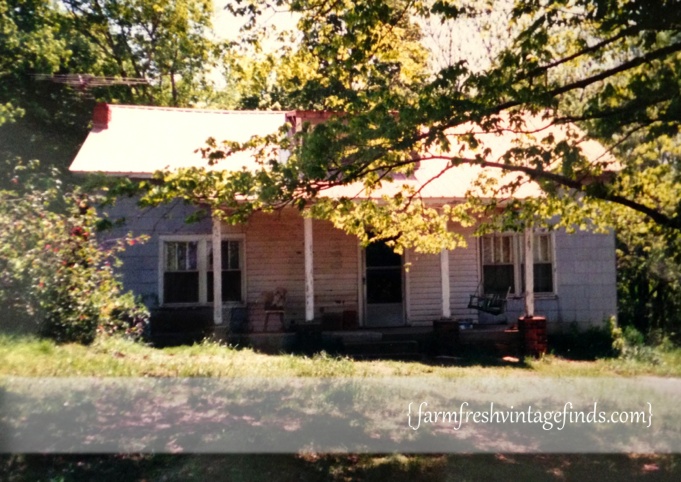 If you want to read more about the restoration/renovation you can do so here.
And this is what it looks like now…..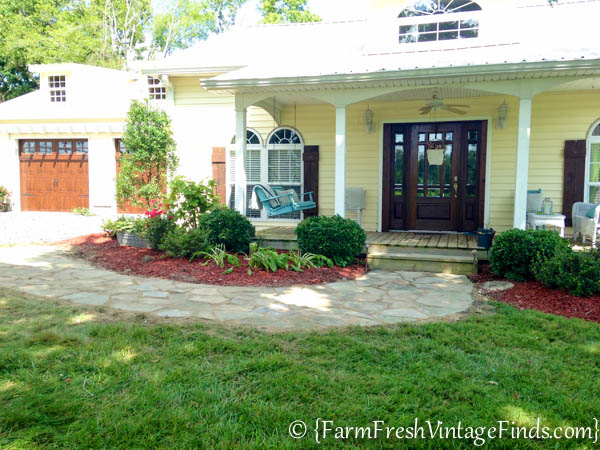 It's taken years for us to get to this point and literally hundreds of DIY projects.
One DIY project that I'm asked about a lot concerns my painted porch cushions.
I've painted fabric with chalk paint now several times.
I posted the make over of these patio cushions a few months ago.
They were destined for the dump and didn't look as though they could be salvaged, but after a couple coats of chalk type paint they looked as good as new and now I am a believer!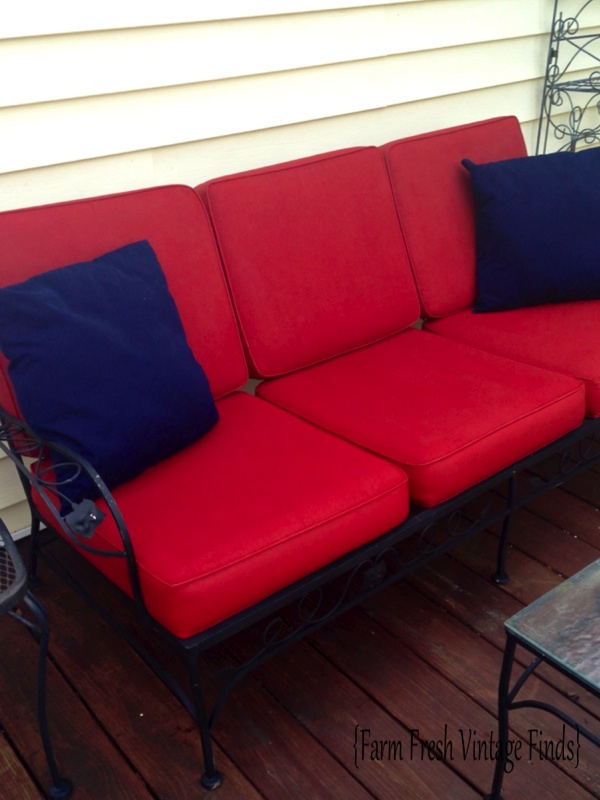 After painting my outdoor cushions I decided to try chalk type painting this chair.  It turned out fabulous as well!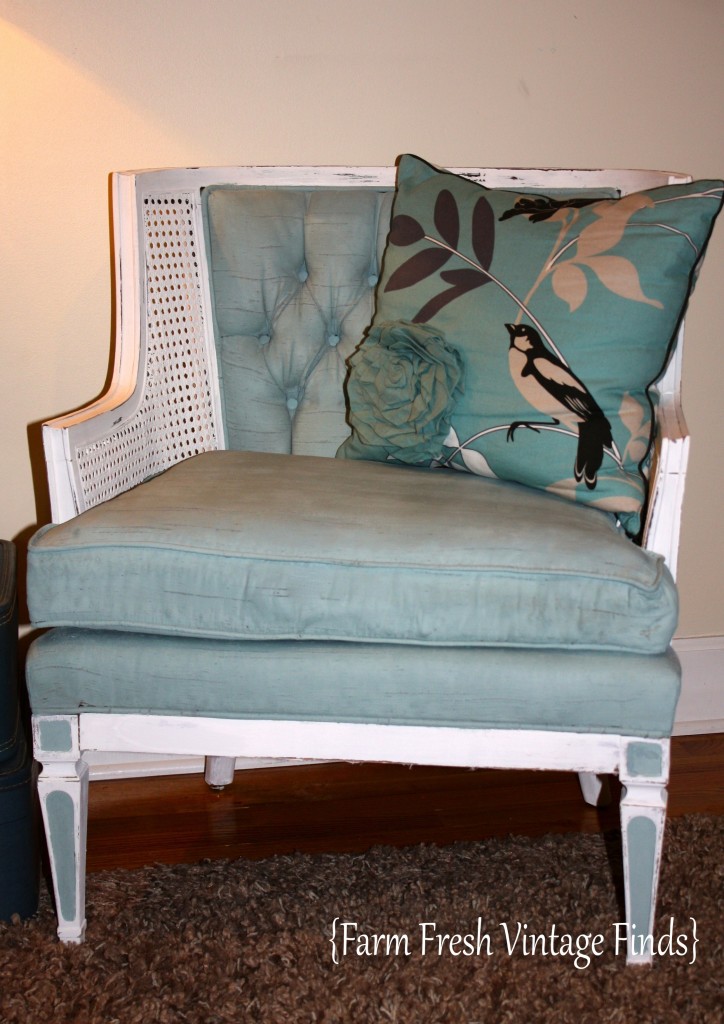 (You can read the full post by clicking on the photo.)
So on to my front porch makeover……
We did lots of work to our house this past year.    We replaced our outdated front door, stained our garage floor and completely transformed my shop and workspace in the barn.  After living here for 12 years it was time for some sprucing up here and there and we made some major transformations to the farm.  So naturally when someone comes to our home I want my front porch to be welcoming and inviting.  However this porch swing just really wasn't cutting the mustard……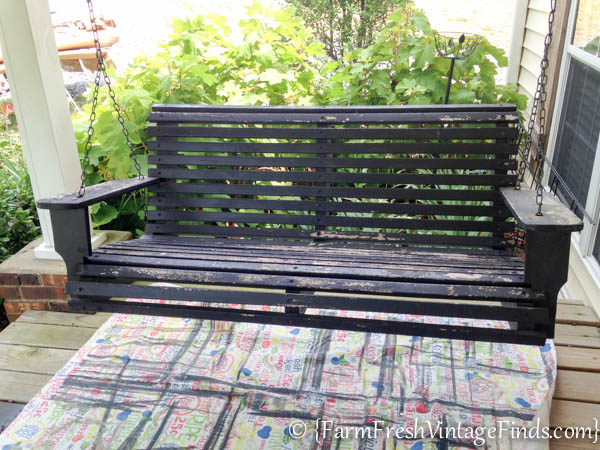 The outdoor paint that I had used to paint it just did not hold up at all and while I really wasn't too excited about having to paint it again a year later I could no longer make excuses and put it off.  I chose to use Annie Sloan Chalk Paint in Provence.  I've used this color all over my home here and there.  It's one of my favorite colors hands down.
Painting it this soft blue color was an instant transformation!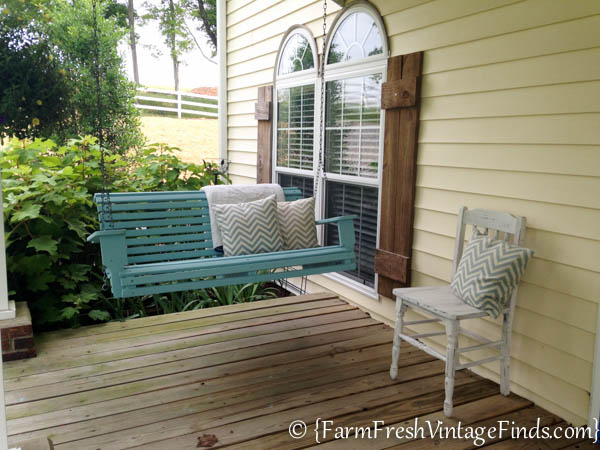 After that it was on to the outdoor resin wicker that's on the other side of the porch.  It too had seen its better days.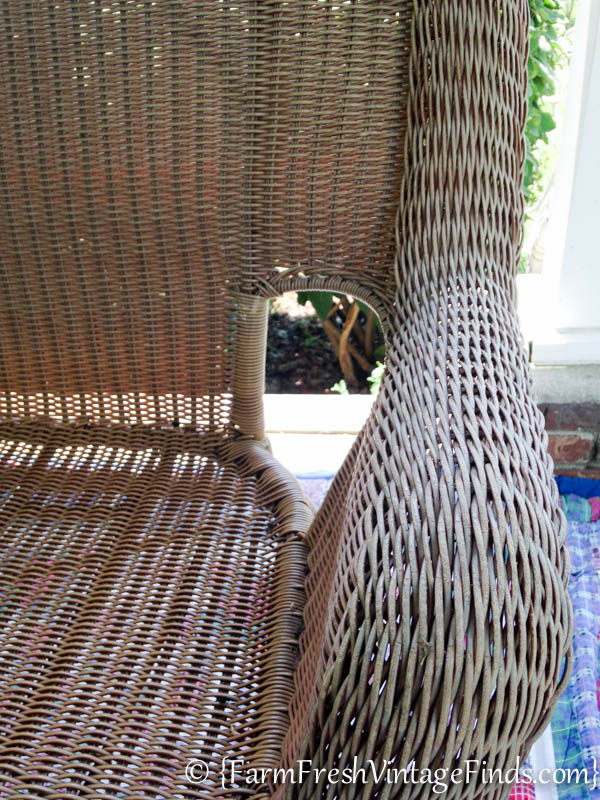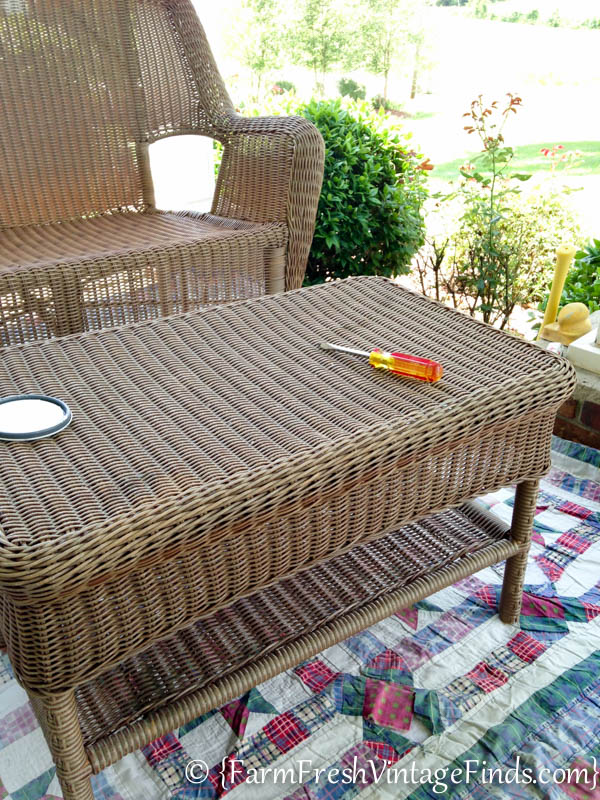 I decided I'd just paint it plain white to brighten it up.  And go with Provence on the cushions.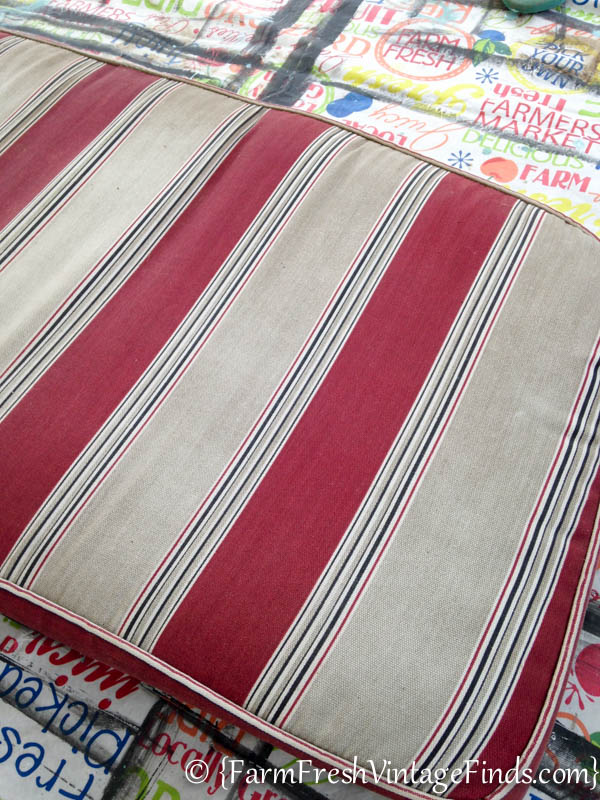 Painting fabric is so easy and saves you so much money.  I mean have you checked the price of replacing cushions lately.  WOW!  You can spend almost as much on the cushions as you do the actual chair.  Ummmm, no thanks!
When painting fabric be sure to have a spray bottle of water handy and lightly spritz the fabric.  I've found that doing this really helps the paint to absorb better and I use less paint this way as well.
Answers to Your Questions About Painting Fabric
"Does the paint wear off on clothes?"-  No.  Once the paint is dry it's just like any other painted surface and sticks to the surface and not to you or your clothing.
"How does the cushion feel?"- If left unwaxed it is a little stiff.  However I wax my cushions to soften them up.
"What wax works best for sealing the fabric?"-  Since I started painting with chalk type paints I've used several different brands.  I used Annie Sloan (almost) exclusively for quite some time.  But because of a few inconveniences I decided to try another chalk type paint.  I now use (and sell here on my site) Heirloom Traditions Chalk Type and DIY Paints.  They are by far the BEST chalk type paints I have ever used and I am completely obsessed with them!!!!  Their waxes come in several colors and soften and seal painted surfaces (including fabric) like you would not believe.  In the case of fabric, I apply wax to the painted surface, let it dry for about 30 minutes and then lightly buff with a soft cloth removing any extra wax.
"Does the paint soak into the inner foam?"-  No.  When applying paint to fabric I usually do two generous coats and I've never had a problem with the paint soaking through.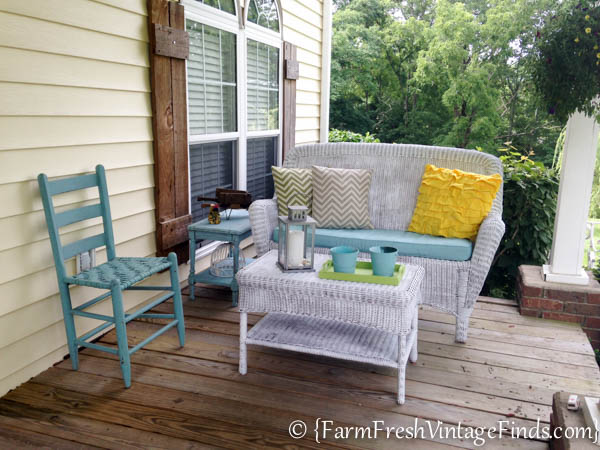 So there you have it.  In an afternoon I was basically able to transform my porch with less than two cans of paint.
I hope my porch transformation and these tips help you update your cushions and fabric without spending lots of money.
Feel free to leave any other questions you may have in the comments below.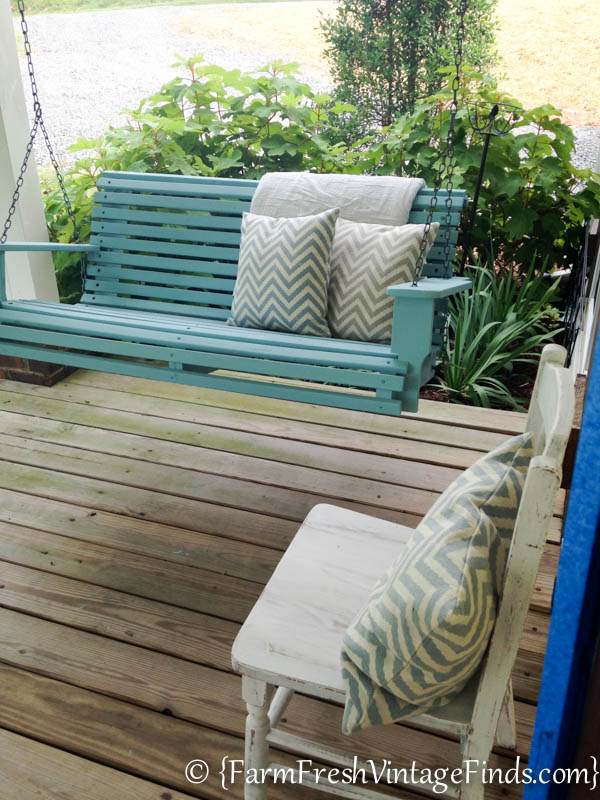 Have a great day friends!