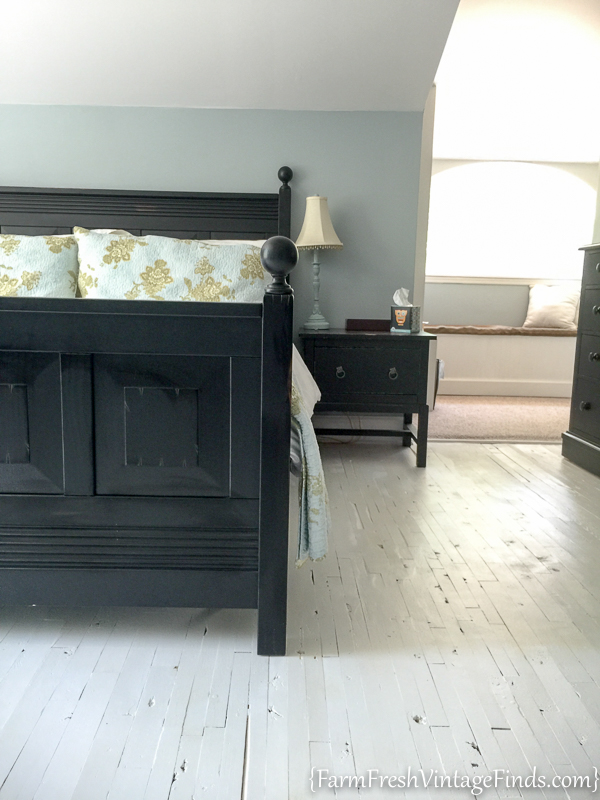 I've shared a few times with you all about our farmhouse.  We've gone over every inch of this house, sometimes more than once.  In fact, you can view photos of how it looked when we bought it at auction here.
Prince Charming and I often discuss how far we've come with our DIY skills because of our desire to create a space we love.  And how this house has been and continues to be the most important and difficult project we've ever tackled.  Recently we moved our bonus room from upstairs into another space in the house and converted the former bonus room to our master.
Today I wanted to show you the transformation of the original hardwood floor using DIY Chalk Type Paint and my HomeRight EZ-Twist Paint Stick.
Also be sure and enter the giveaway at the end of this post for a chance to win your very own EZ-Twist Paint Stick.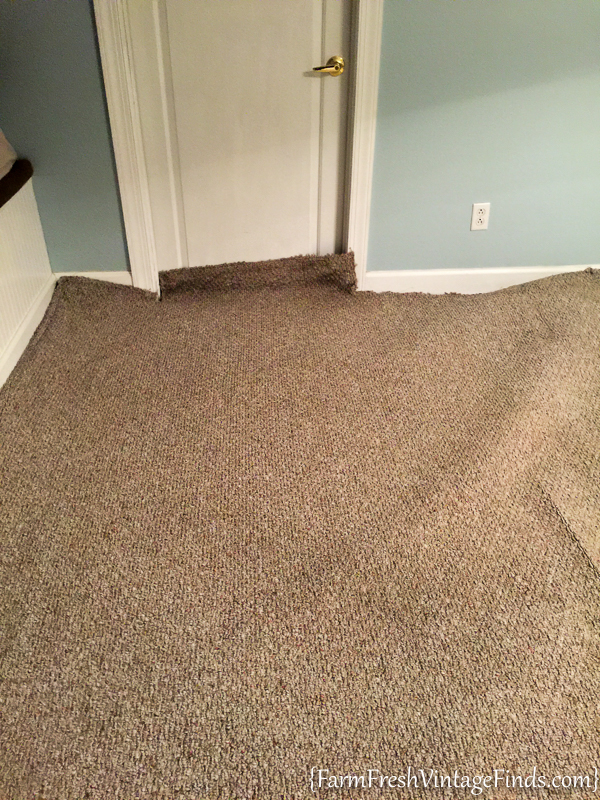 The first thing to do was tear up the existing carpet.  We had this carpet installed when we originally remodeled the house 13 years ago.  It was still in pretty good condition but I knew there was hardwood under it and I really wanted to try my hand a painting it.
I'm not going to lie to you though, Prince Charming really didn't want a painted floor.  He was pushing for new plush carpet and was convinced that was what we needed to do.  However he agreed to let me see what I could do with the hardwood and I agreed that if he didn't like it we could purchase carpet.  (Yeah, right that last part was a TOTAL lie.  I wanted a painted floor BAD and was pretty determined to get my way.  Shhhh don't tell him that!)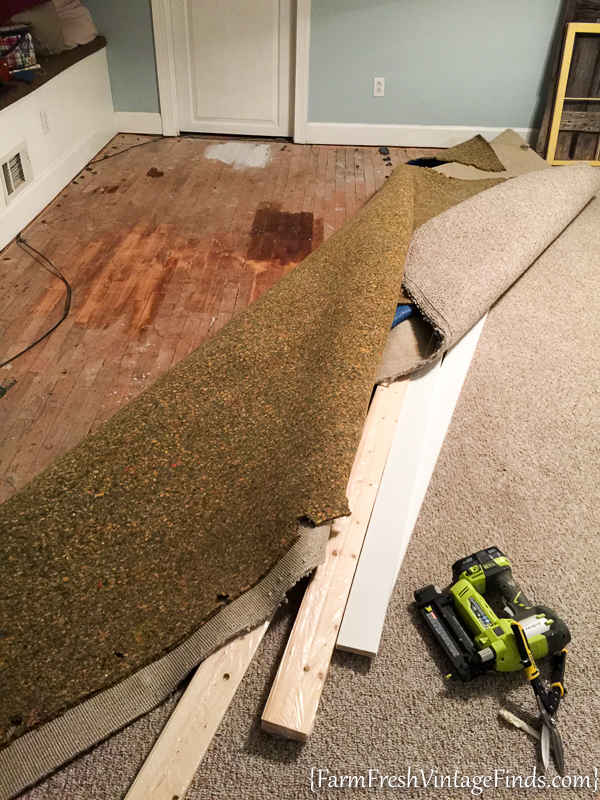 After we pulled up the carpet I tested an area with paint and with stain to see what I liked best.  (I used Debi's Design Diary DIY Chalk Type Paint in Beadboard.  You can purchase it here.)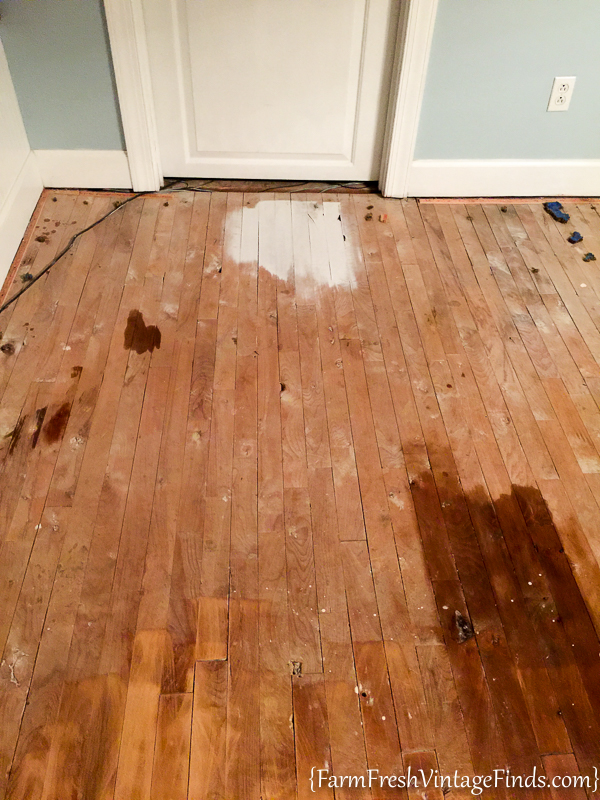 The stain looked pretty but would have required wayyyy more work (mostly sanding) that I was willing to do.  I pretty much live in the moment and when I decide I want to do something I want it finished before I even really get started.  So sanding and staining and sanding and staining and sanding and sealing wasn't really on my list of fast fixes.  Plus all of the other floors in the house are original hardwood that's stained so I have lots of beautiful woodgrain to admire.
Painting it was!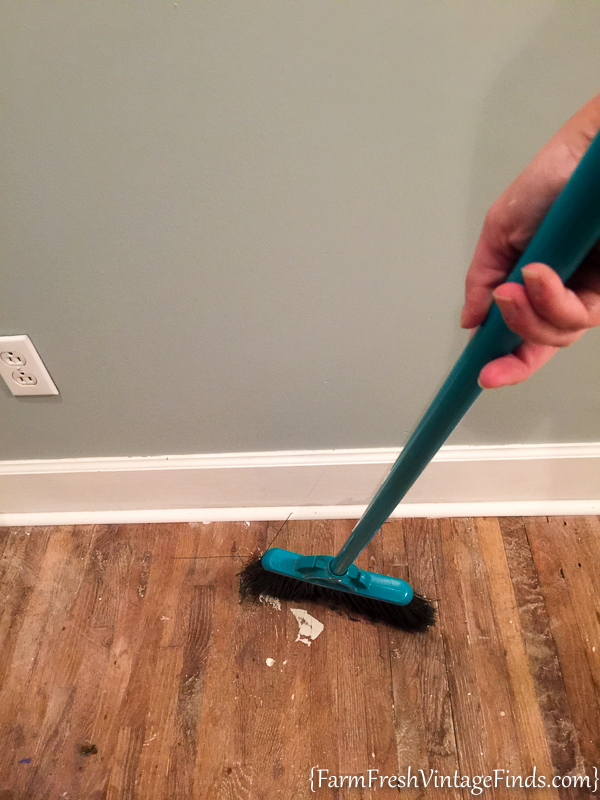 I cleaned the entire floor really well with a broom, then shop-vac, then mopped a couple times.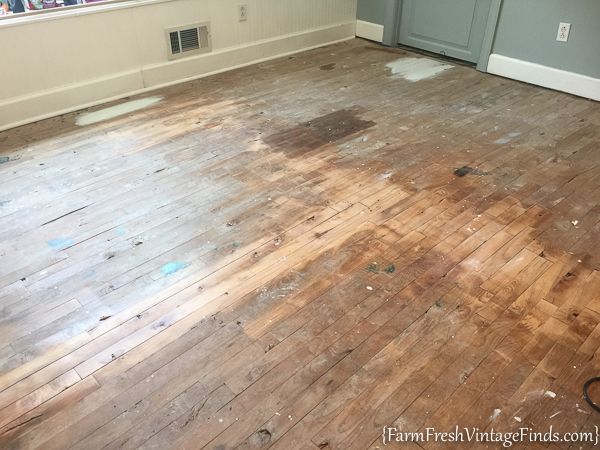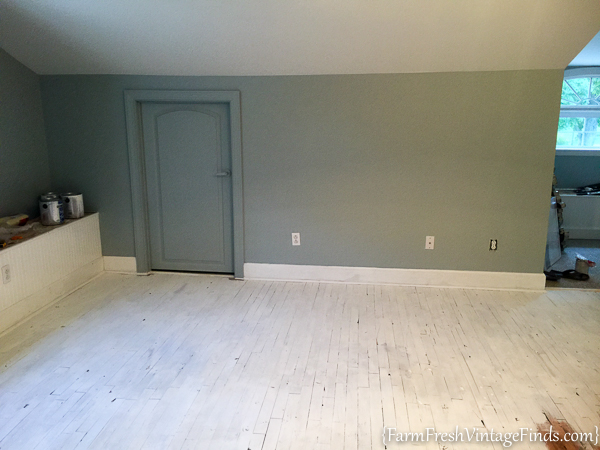 Next I primed the floor with a water based primer.  I was pretty sure that the tannins in the wood would bleed and man did they ever!  I took 2 coats of primer to cover the bleeding and still in a couple areas it's noticeable.  But I'm ok with that because let's face it when you live in a house built in 1827, first you are extremely grateful and second you learn to accept that things aren't ever gonna be perfect.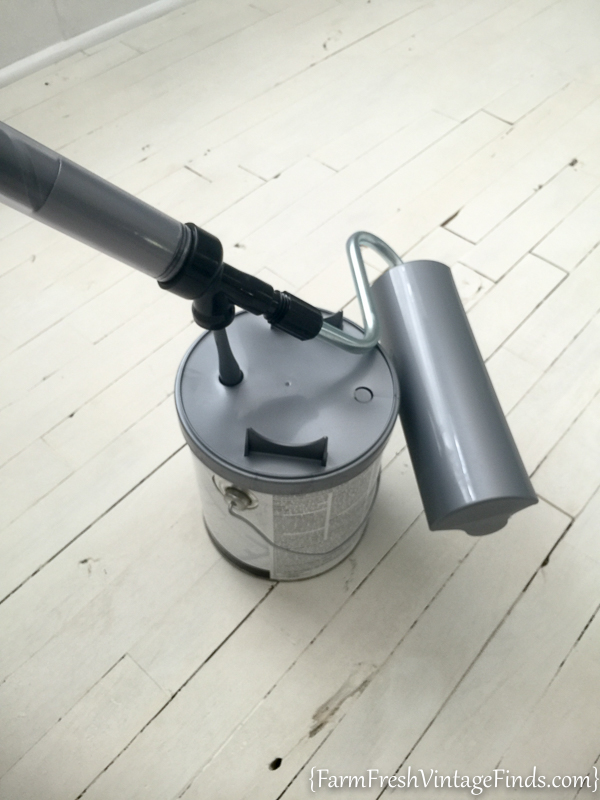 Once the floor was primed I got out my handy HomeRight Ez-twist Paint Stick.  Have you ever used one?  This is the most useful paint stick I've ever owned.  It is perfect for walls and ceilings because it has a shield to prevent drips and splatters.  But the best thing is that it doesn't require a messy paint tray!  It comes with a handy lid adapter that attaches to your gallon of paint.  You simply attach the paint stick and twist the handle to suck the paint right into the stick!  Then as you're painting your surface you simply twist the stick in the opposite direction and the paint gradually comes out onto the roller.  It's so perfect and mess FREEEEEEE!!!!!
Genius!  No mess!  I AM IN!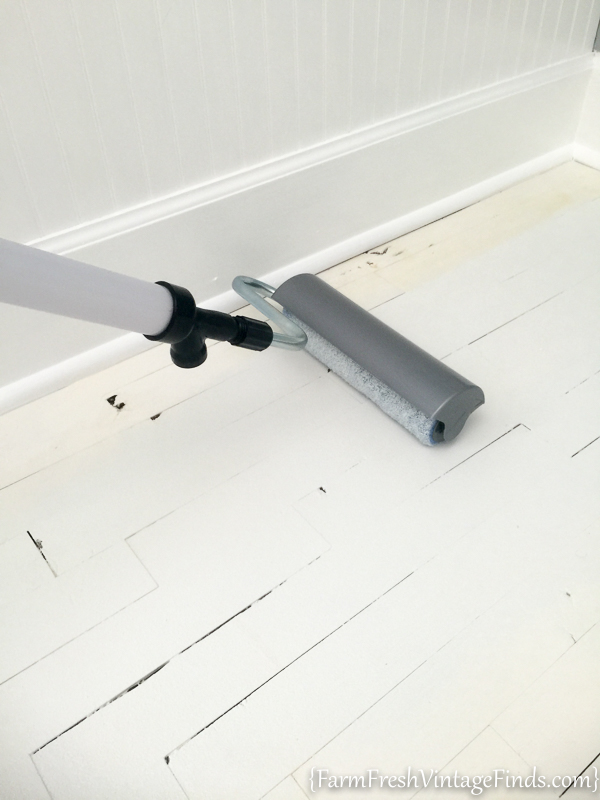 Rolling the floor was super simple and fast and the shield helped prevent splatters on the freshly painted walls.
I used 3 quarts of paint which I combined all together in a gallon paint container with a quart of water.  This insured the paint was well mixed and thinned just enough to go on smooth.  Once I had painted 2 coats of paint on the floor with my paint stick I cleaned it all with warm soapy water and then sealed with two coats of a water based topcoat again using my paint stick.
All in all the floor couldn't have turned out better!  I am so thrilled with how easy this project turned out to be.  I have a feeling I'll be painting more floors in the future.
 Needless to say Prince Charming came around to my way of thinking and we're not getting carpet!  See how I saved us so much money there?  I'm gonna have to remind him of that.  😉
Be sure and enter my giveaway below for your very own HomeRight Ez-twist Paint Stick!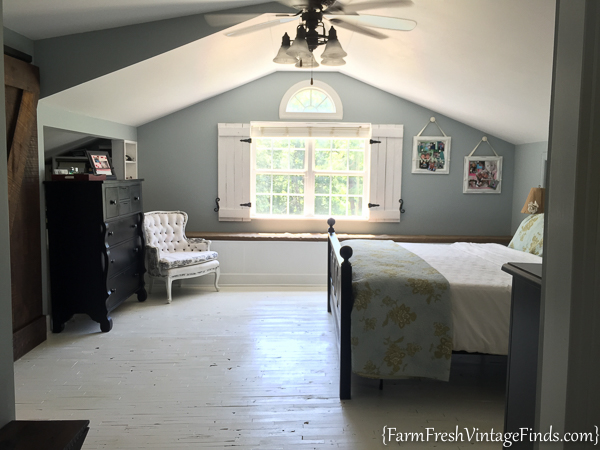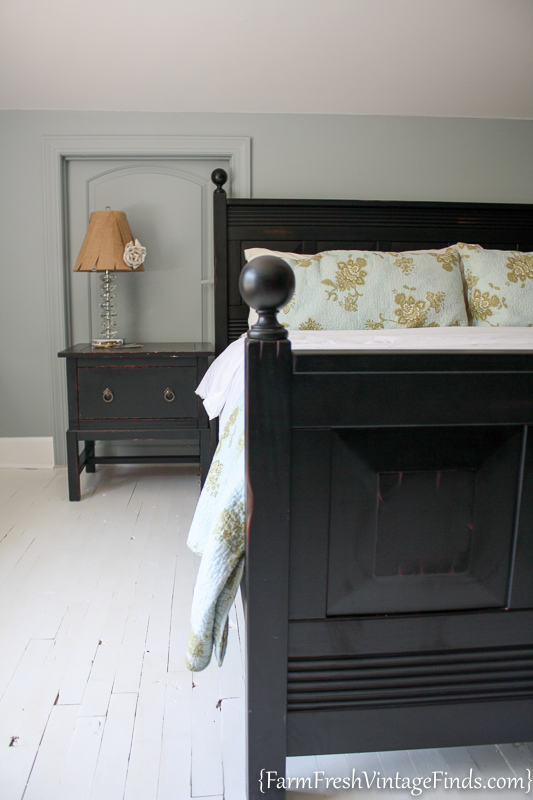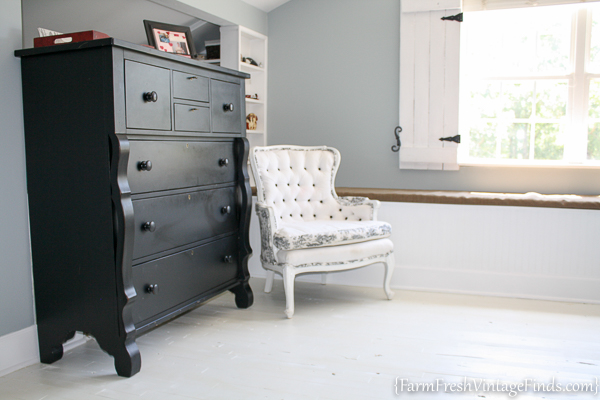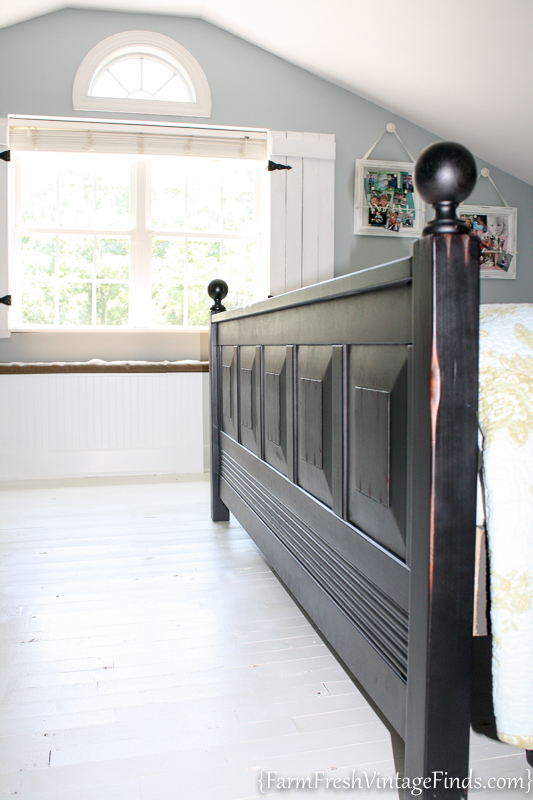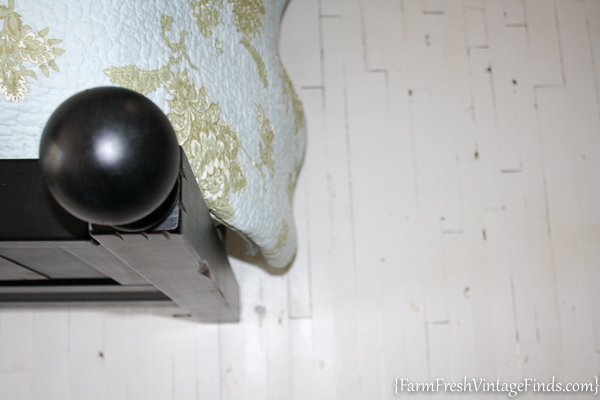 You can purchase your very own HomeRight Easy Twist Paint Stick  here.