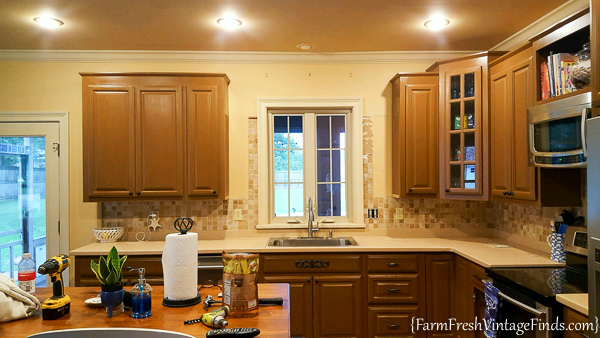 Howdy friends!
I'll have to start by apologizing for all the after pictures I'm going to share but this kitchen transformation is one of the most dramatic I've shared in awhile so prepare for photo overload!
When I got the call to paint these cabinets I was excited.  This house, which had just sold, had previously belonged to a friend of mine so I had already been there several times and knew it had good bones.  The new homeowners had a completely different style and vision for it and wanted to make it theirs.  They wanted something bright and crisp and were eager to get started on the transformation.  I love a good before and after.  And when you mix that with my love of kitchen remodels it's a win-win!
Let's take a look at some before shots of the kitchen first.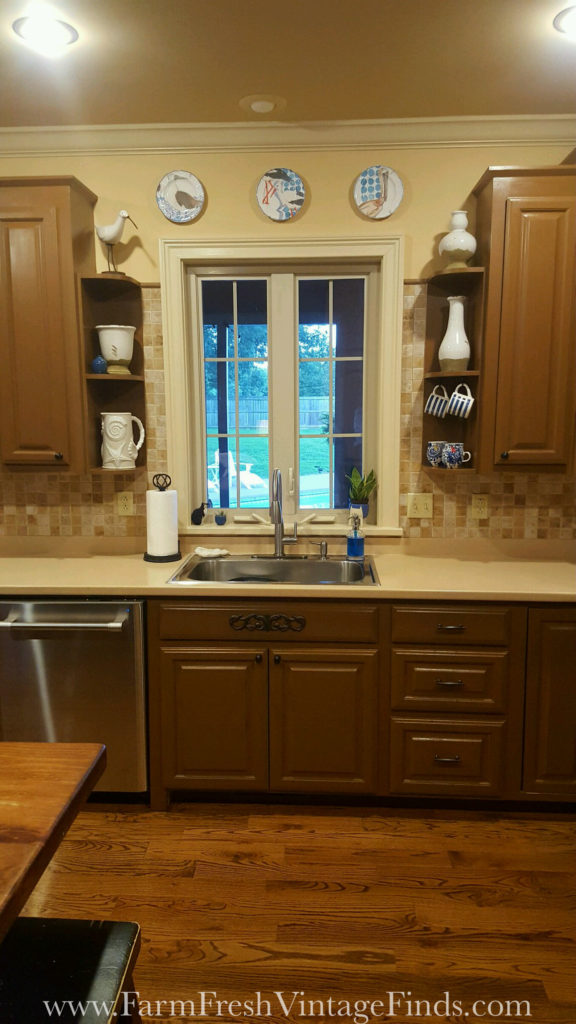 The current cabinets were brown with a black island and stainless steel appliances.  Since there are so many windows even with the dark brown the kitchen still felt spacious and open but my clients wanted white kitchen cabinets and countertops.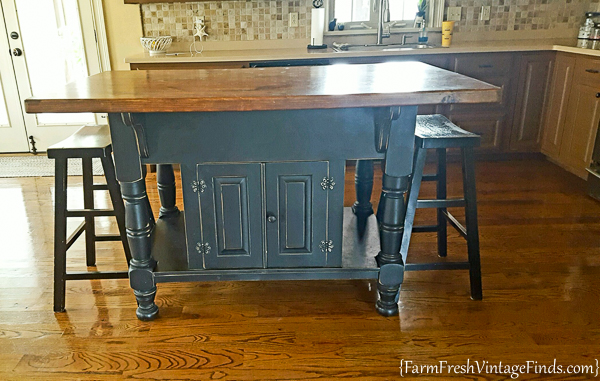 Prince Charming (aka hubby) and I started by removing all the doors and drawers.  Everything needed to be sanded because the brown paint was VERY shiny and had what looked to be little pieces of paint brush hairs in it.  It was challenging to say the least.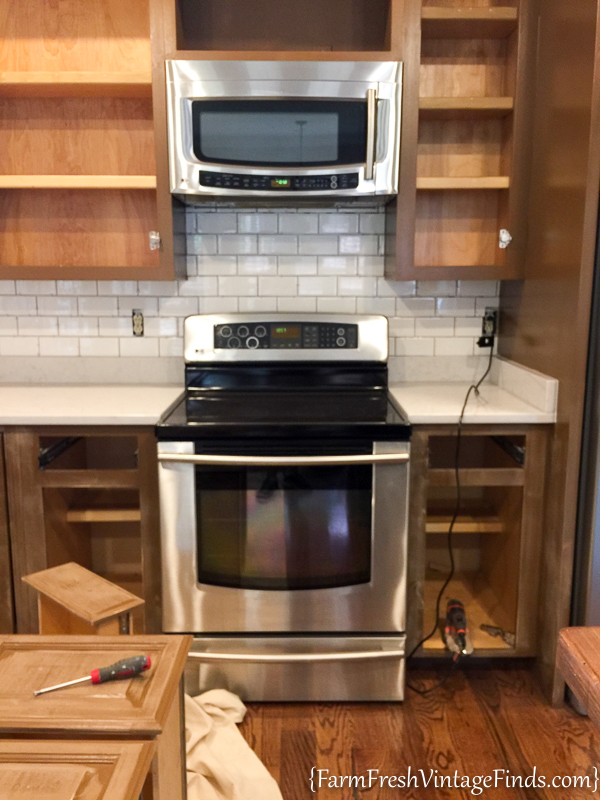 While I was at my spraying the doors and drawers with my HomeRight Finish Max (read more about spraying cabinets here) my clients had new beautiful countertops installed and even had a stainless steel farm sink installed.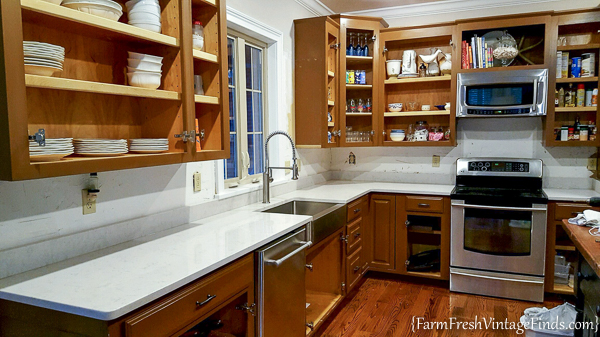 This farmhouse sink is called a "drop in".  It's an easy way to get the farmhouse look without having to remove your existing cabinet.  You can find them here on Amazon.  There's also a great video about installation be sure and watch it if you're thinking of replacing your sink with an apron front.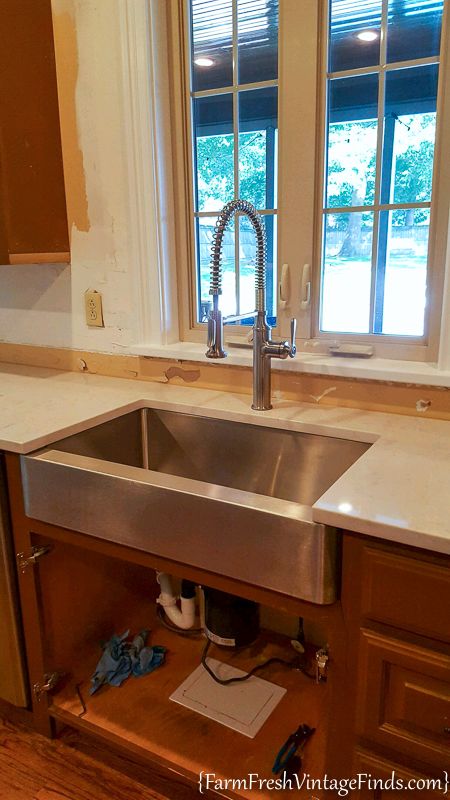 Isn't it fantastic!  We're looking better already!
The backsplash was also removed and replaced with white subway tile.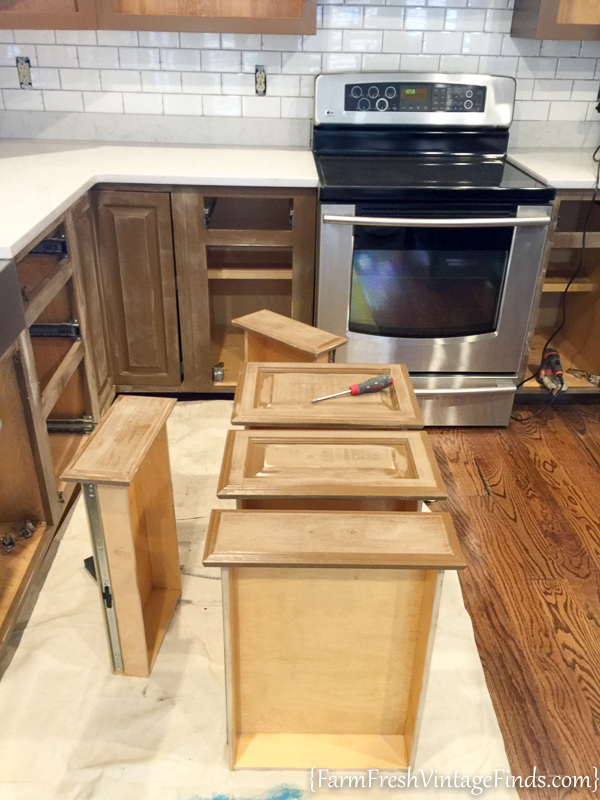 Did I mention we did LOTS of sanding on these cabinets?  It was a mess but so worth it in the end.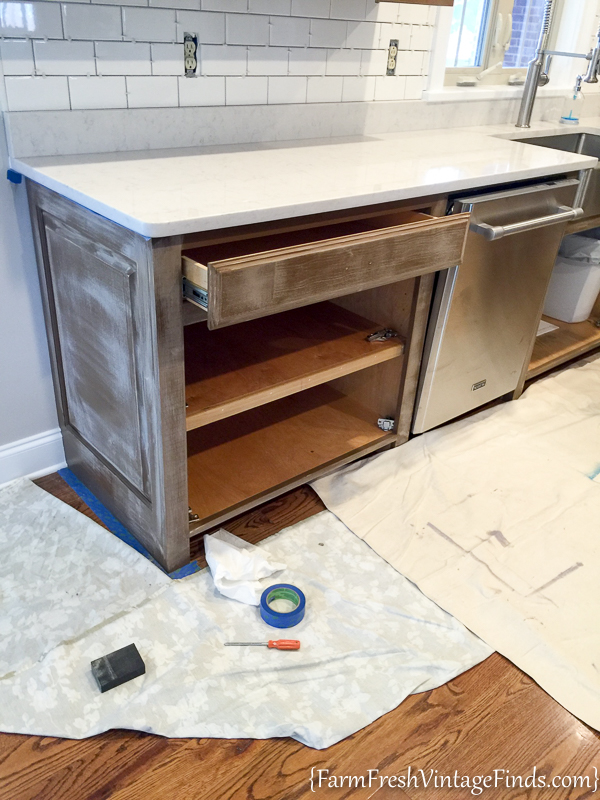 Once all the sanding was completed, the countertop and backsplash installed, it was time to install some new larger crown moulding on the tops of the cabinets.  Adding crown moulding to your cabinets gives them a much more finished look.  I highly recommend it if you don't have it.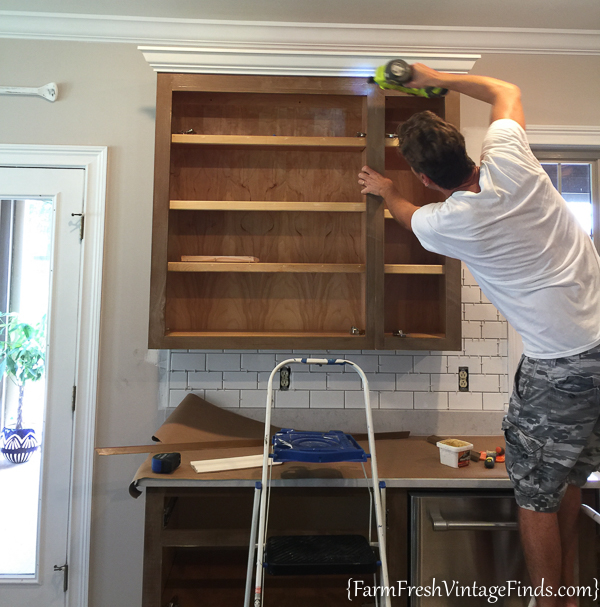 Finally it was time for my favorite part….PAINTING!!!!
Since the cabinets were originally dark brown I decided to prime them with a water-based primer first for extra insurance.  Typically the paints I use don't require priming but with these already having been a little finicky I decided better safe than sorry.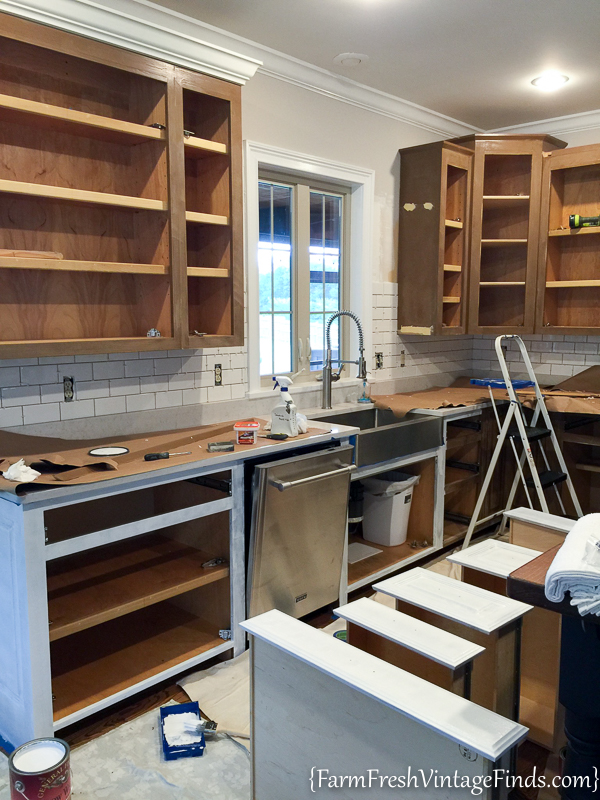 After the cleaning, sanding, cleaning again and priming were done we painted 3 coats of General Finishes Snow White Milk Paint on them.  Snow White is my very favorite white for kitchen cabinets.  I have used it multiple times, even in my own home and it always turns out beautifully and holds up really well.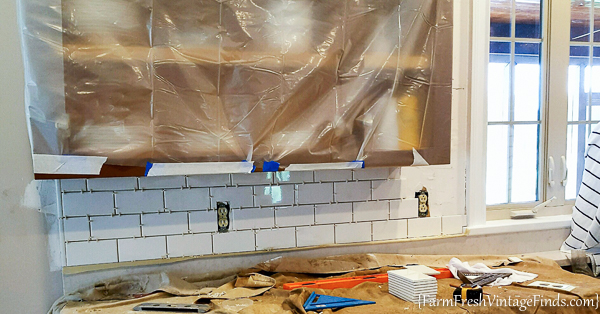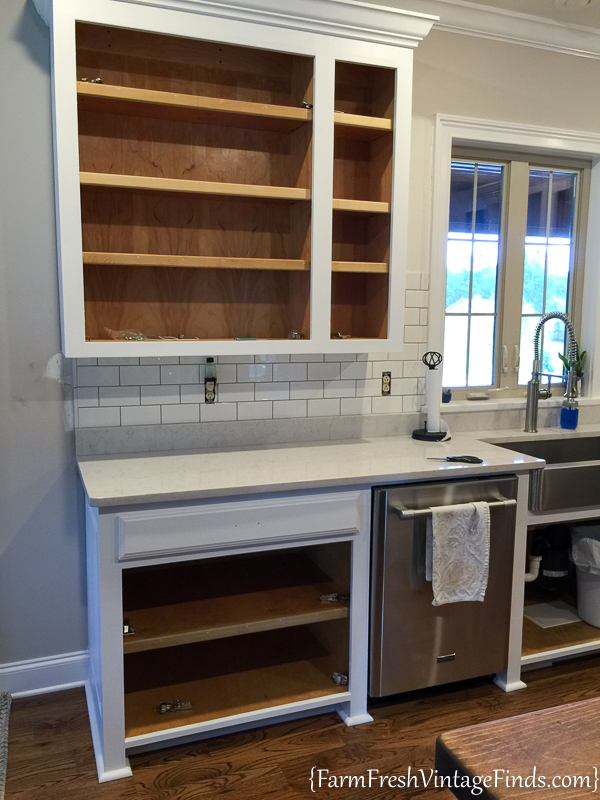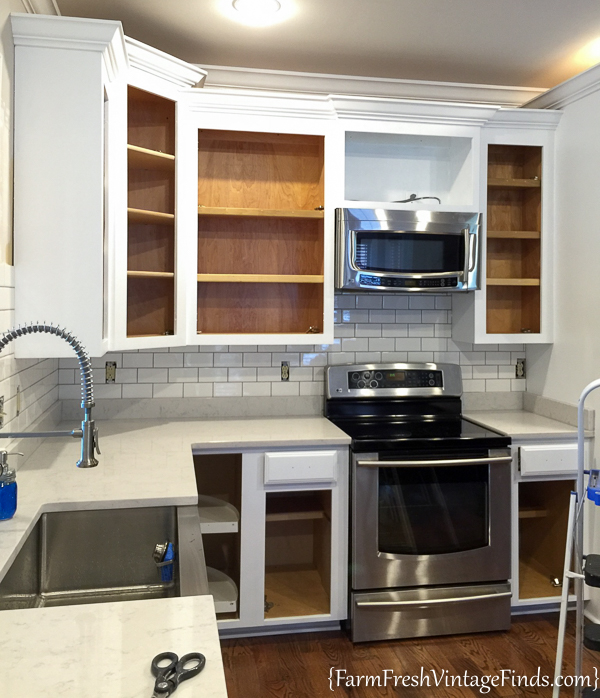 For the island we went with General Finishes Coastal Blue.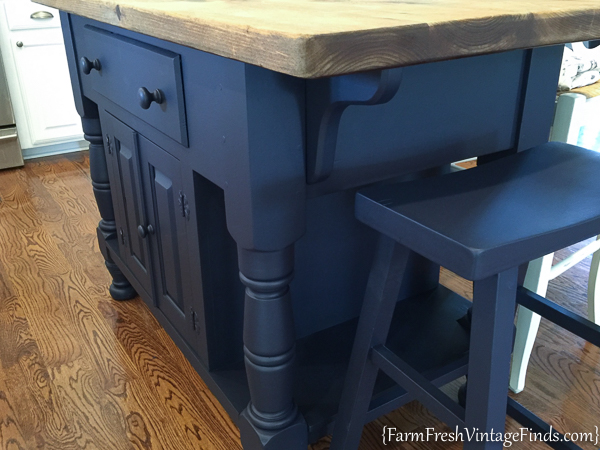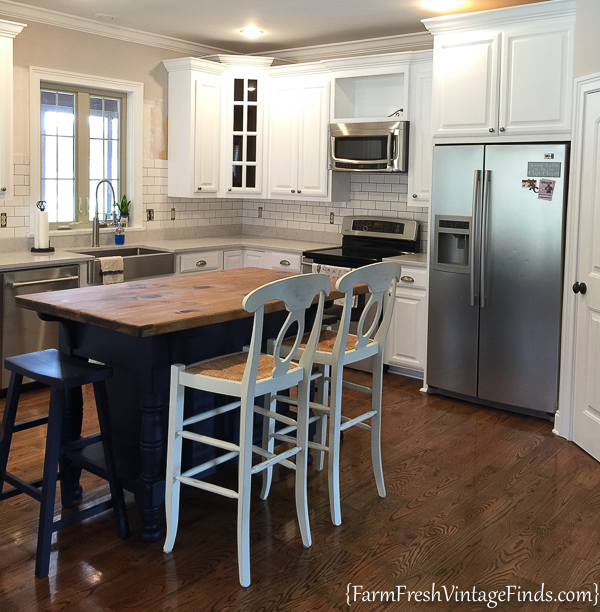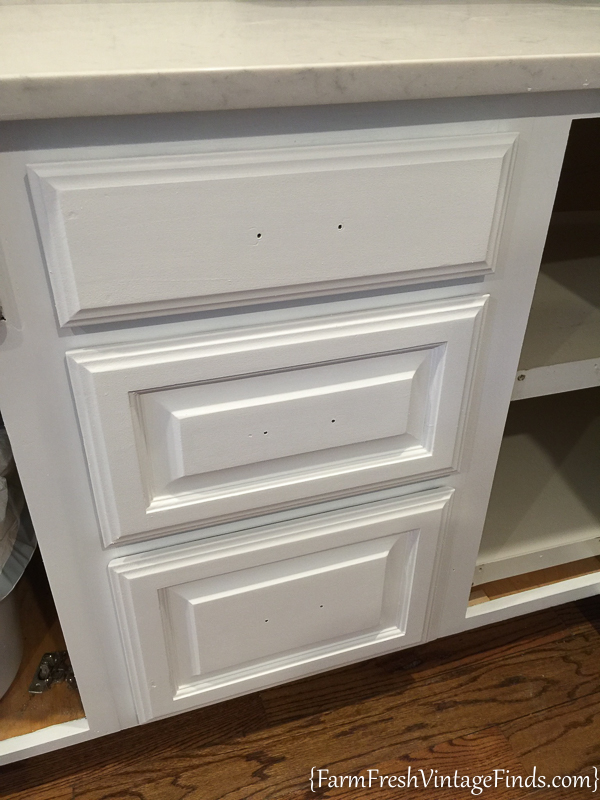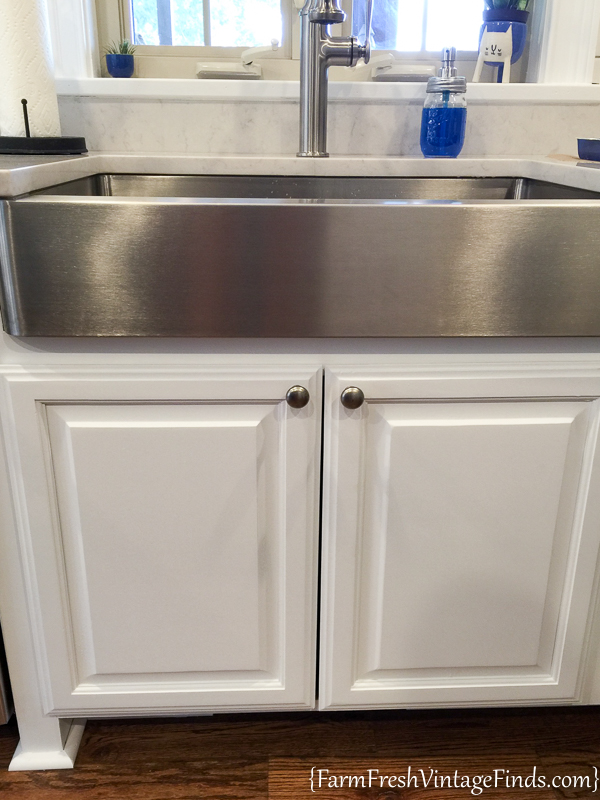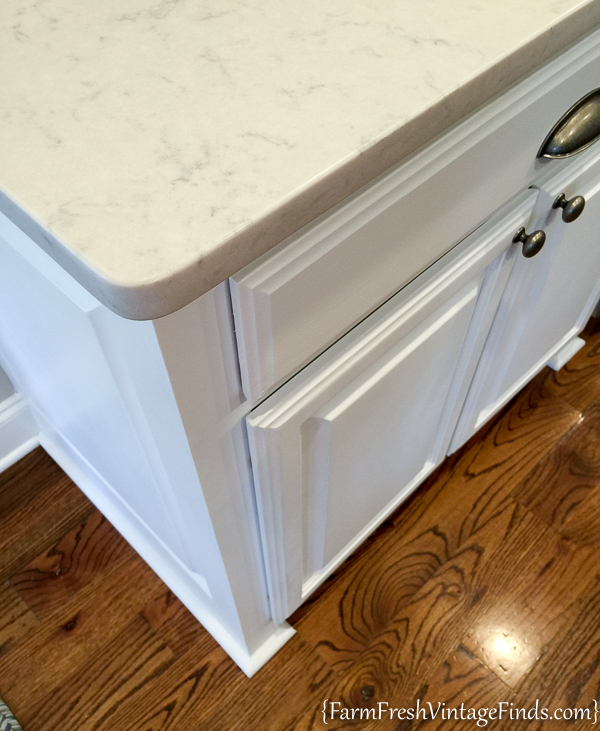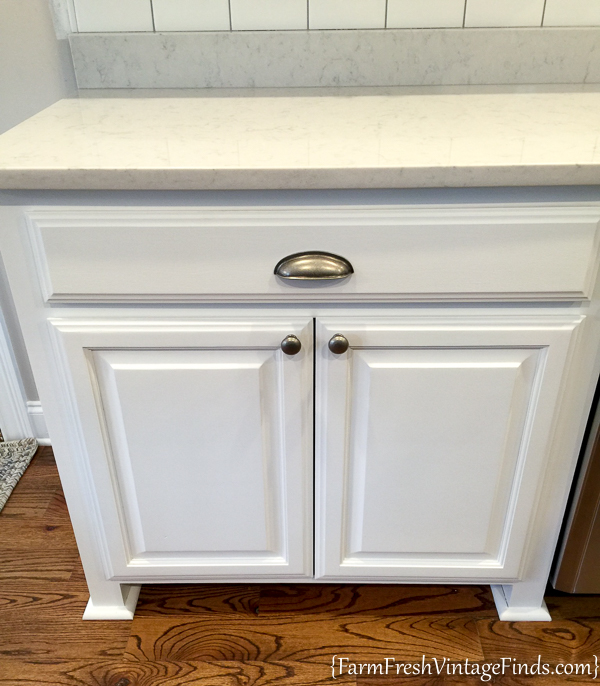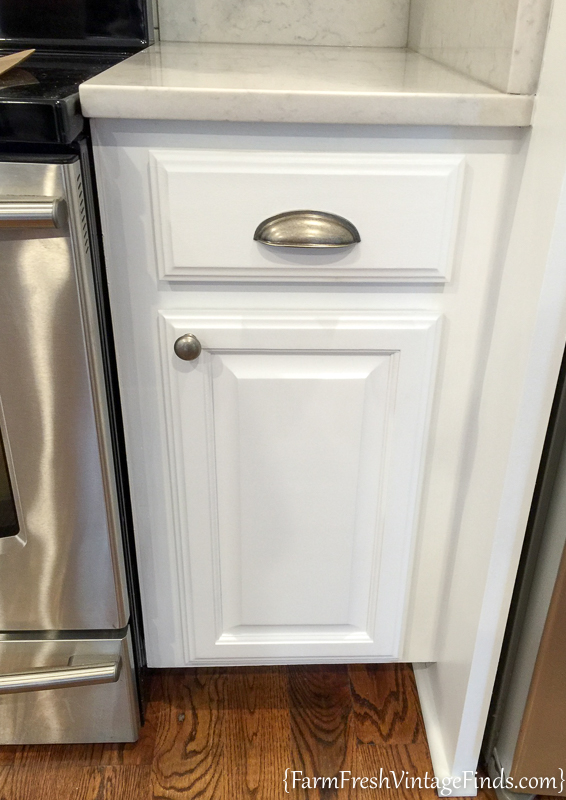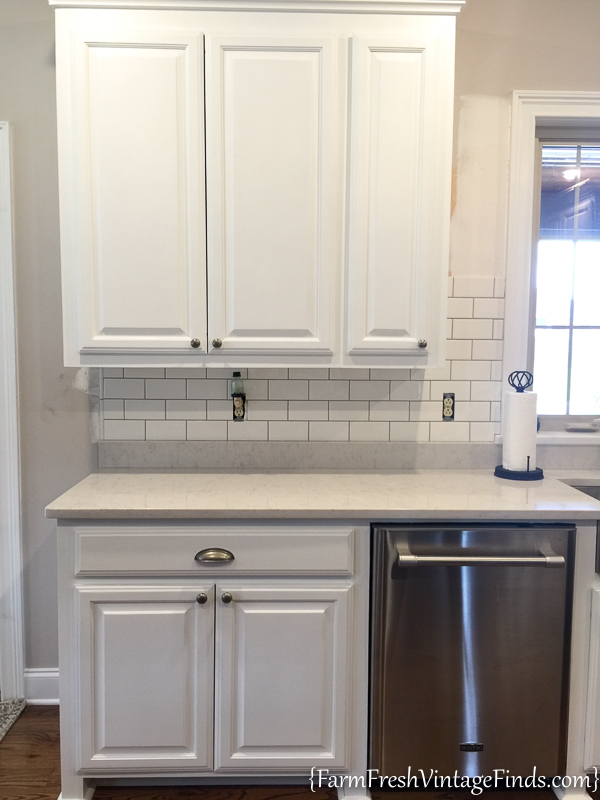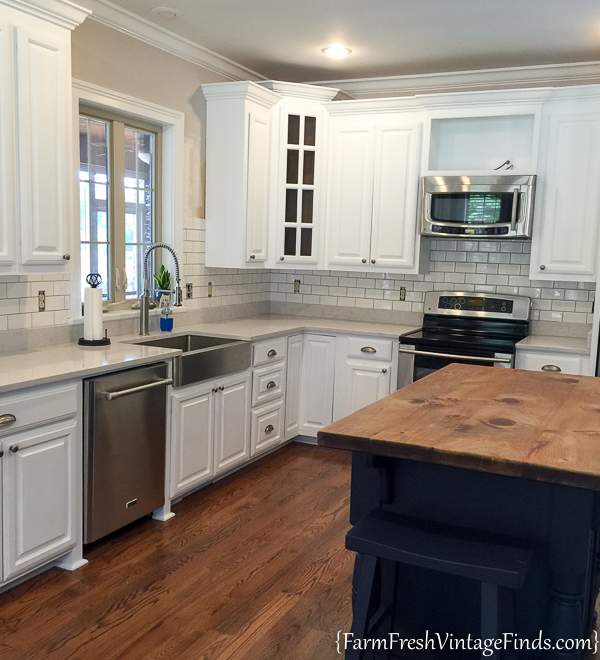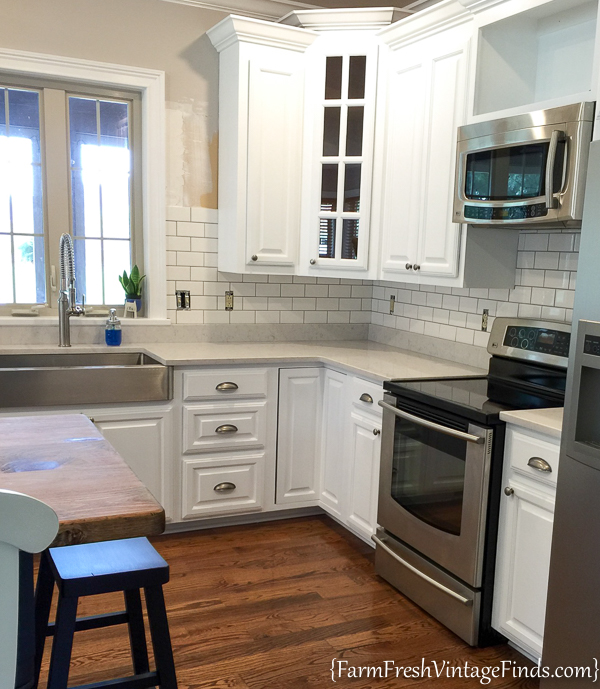 And here we are one more time the BEFORE-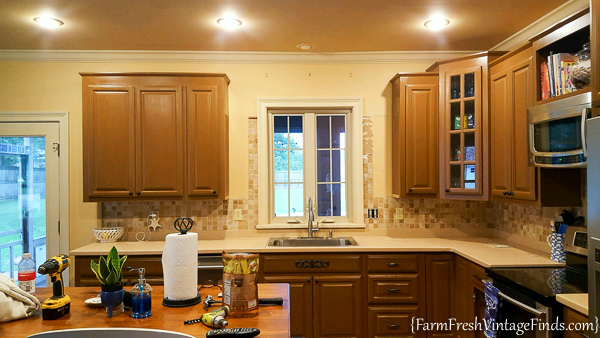 and AFTER-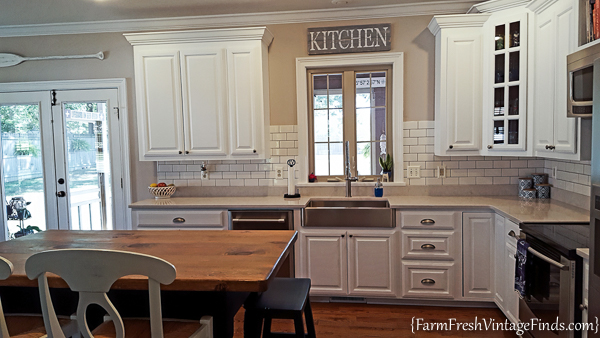 BEFORE-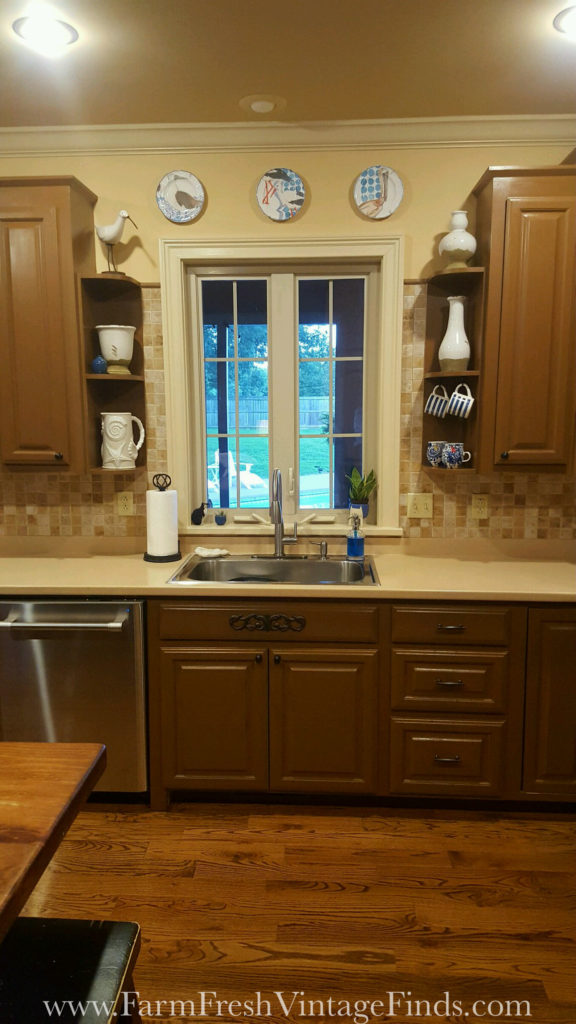 AFTER-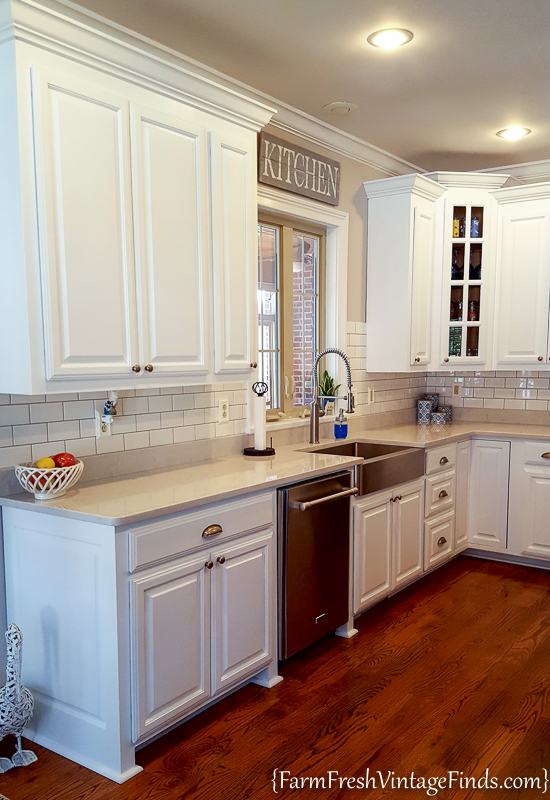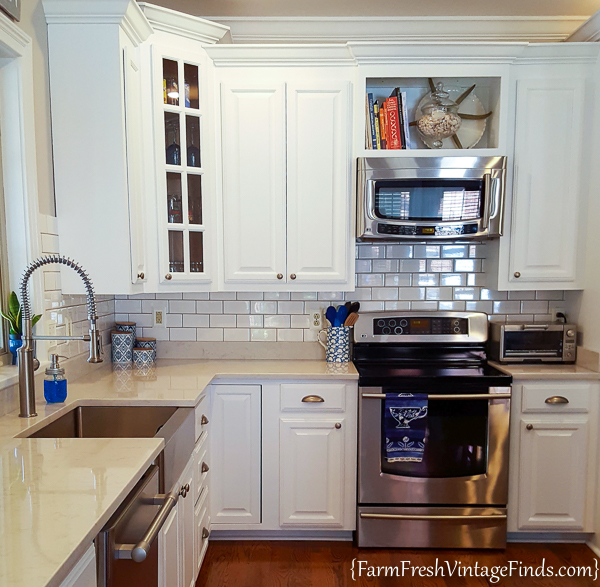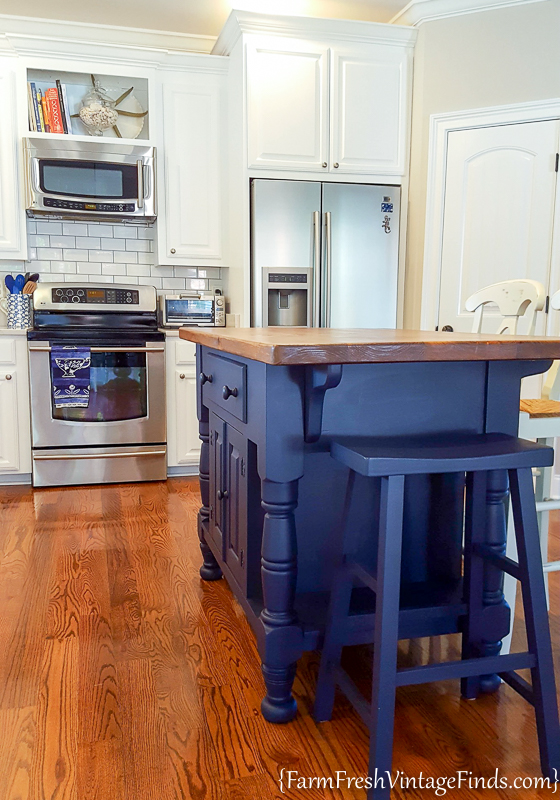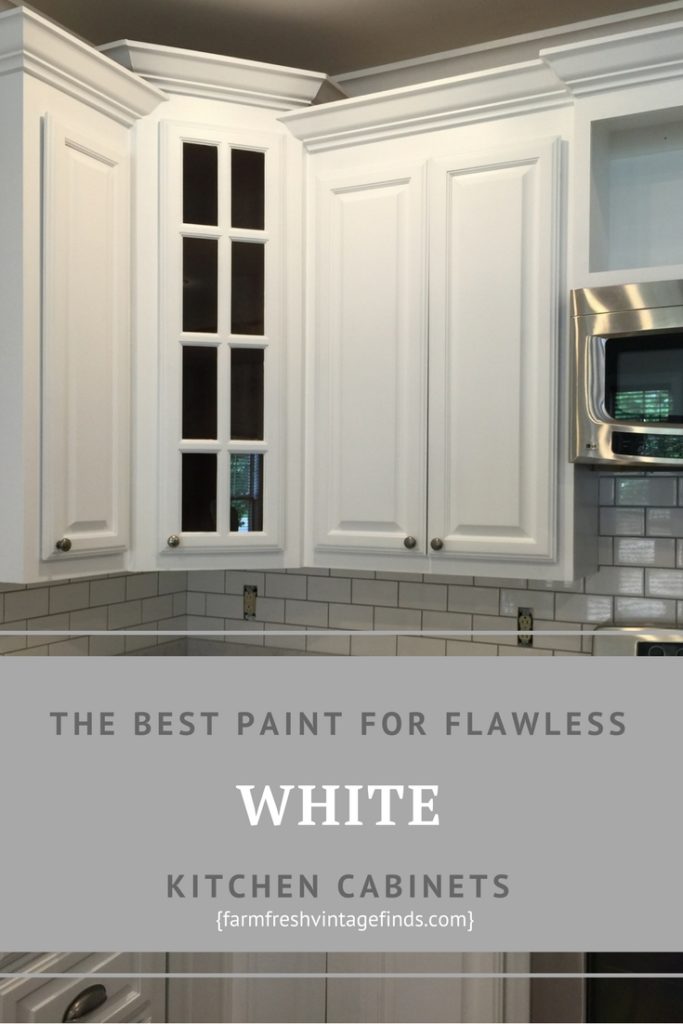 This post may contain affiliate links for your convenience.