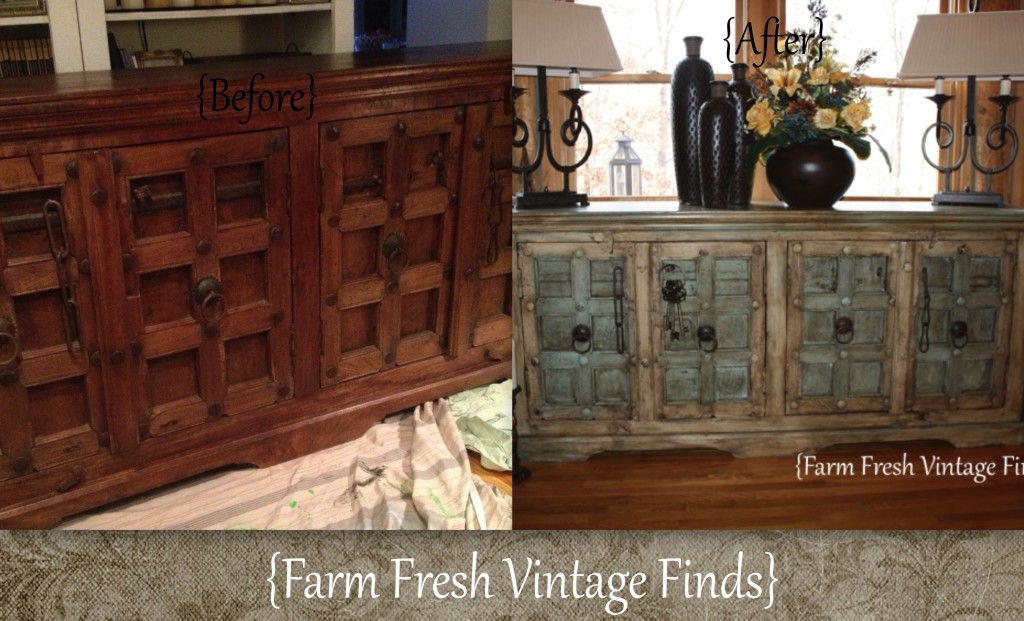 It's always nerve-racking exciting to have a chance to do an "out of the ordinary" project.  This piece came to me beautiful but too plain for my client's taste.  While it was very pretty she wanted it to stand out more in her already exquisite home.  She and her decorator had gone shopping and found this piece.  It had layered paint look.  Instead of buying it they contacted me to see if I could transform her piece with this as my inspiration.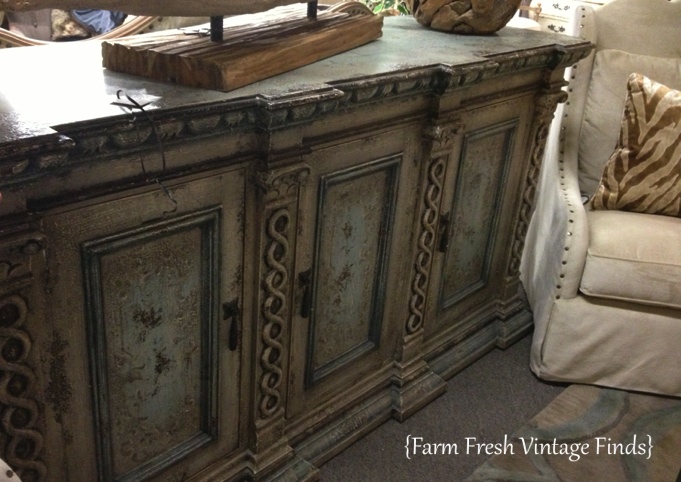 I'm not going to lie….I was EXTREMELY NERVOUS just a little intimidated by it.  But remember I'm the gal that will try anything twice and I thought for sure that if I had a chance to see it in person I'd feel better about it.  So my kids and I decided to go to the store it was located in.  Well let's just say that really wasn't a good idea.  The word "swanky" comes to mind for this kind of store…enter more intimidation.  And the piece was even more elegant in person.  Oh and don't even ask me the price!  W-O-W!  Enter more thoughts of doubt, hesitation, uncertainty……can I really transform her piece to look anywhere near as good as this one?  Right about this time I'm sending out an SOS with a phone call to Prince Charming (aka hubby).  He's so wonderful and encouraging and always tells me, "babe you got this."  Deep breaths, deep breaths, deep breaths…..
At the paint store I picked up everything I thought would help me with the transformation.  When I looked at the inspiration piece I saw Duck Egg, Country Grey, a little Olive and LOTS of dark wax.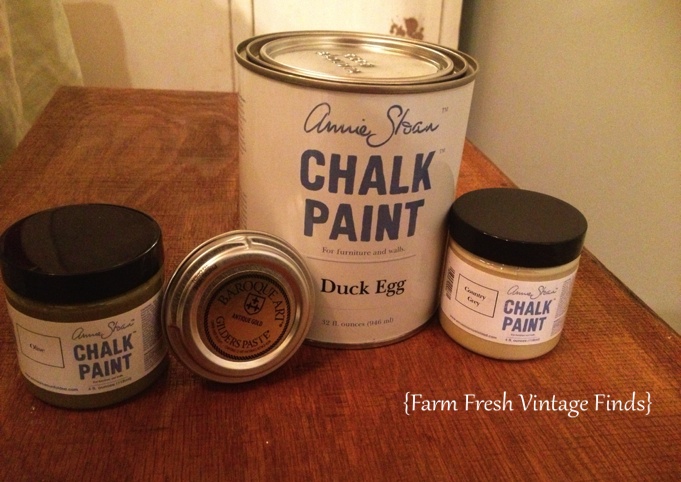 I decided I'd do a sample board to get a feel for the "chunky painting" technique.  I was really stepping out of my comfort zone with this one and I wanted to practice the technique before starting on the actual piece.  I like long smooth brush strokes and this piece wasn't going to have any of that.  I've researched many different painting techniques over the years, read Annie Sloan's books and I've taken classes from some of the best in the biz.  This project combined all the knowledge I've gathered over time and really tested my skills.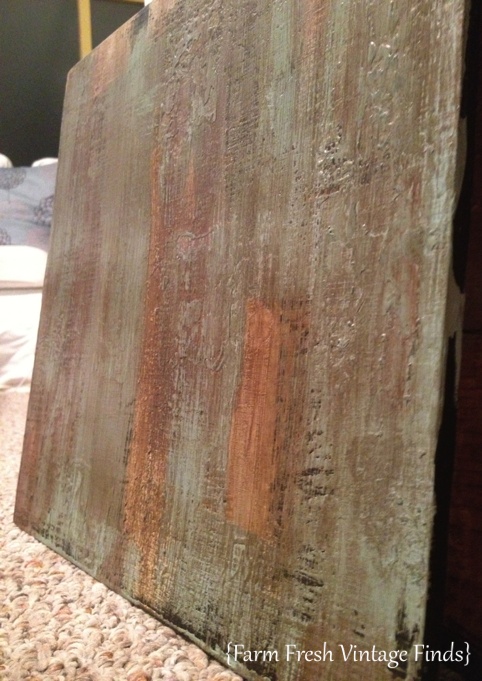 After finishing the sample board I shared it with my client.  She was ecstatic!!!  I also sent it to a few of my friends and shared it on my Facebook page  and got great feedback.   I felt much better.  I was so thrilled……GAME ON!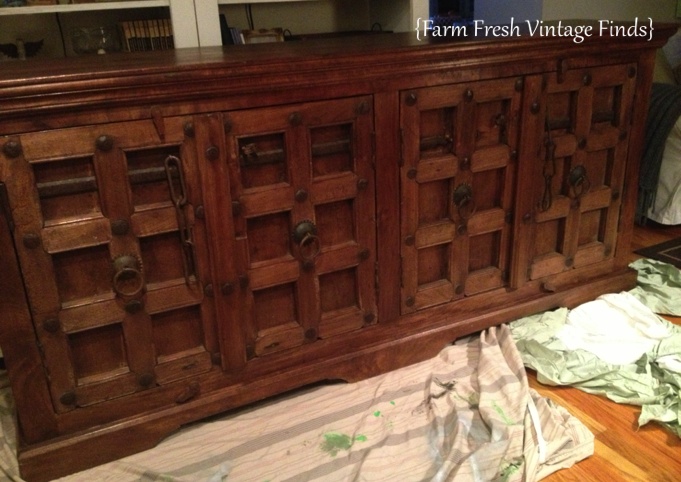 Here's what I started with.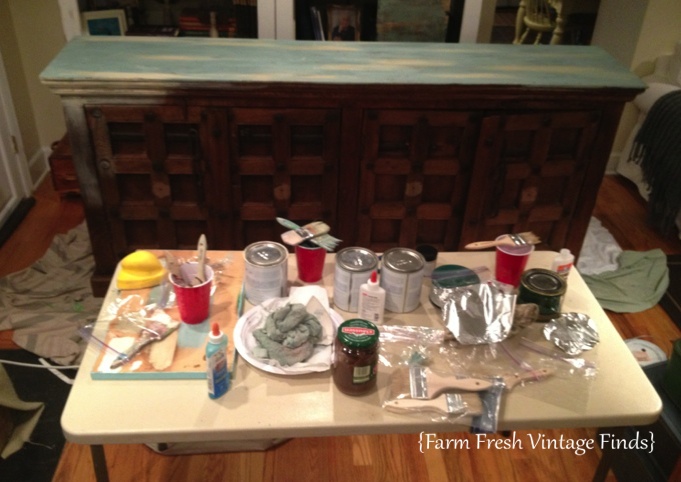 I painted all the colors, in no set pattern, on the top and sides….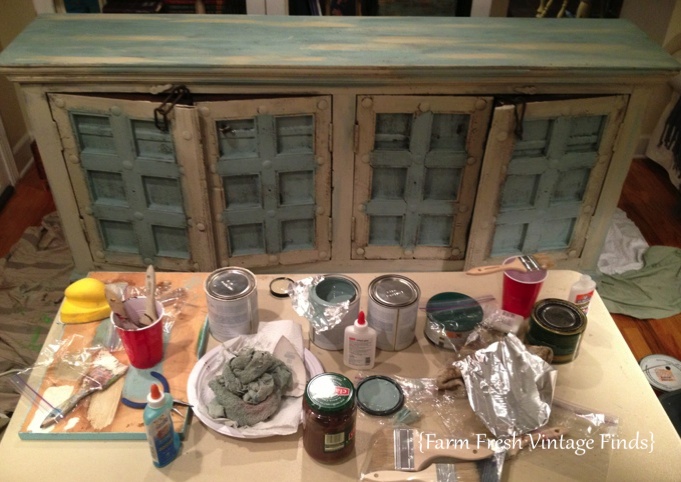 and then painted the doors solid Duck Egg and the door "frames" Country Grey doing some dry brushing here and there of both colors on top of each other.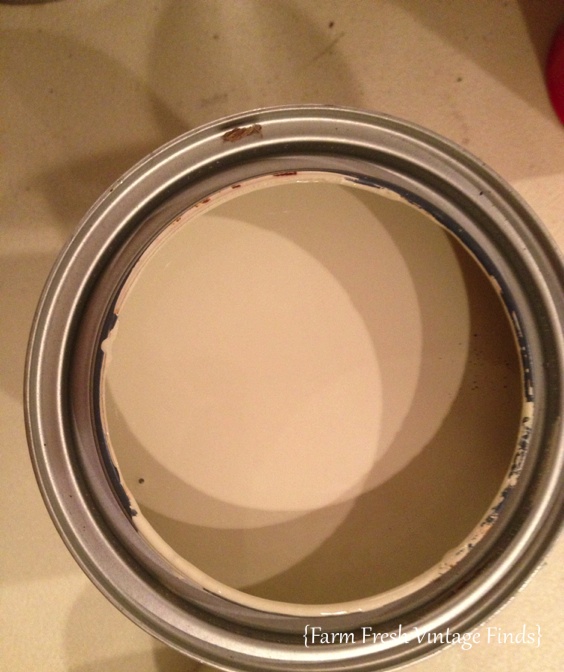 I then made a trip back to the store for more paint.  I'm not real sure why I thought I could paint this with a sample pot?  Oh my!  I don't think I mentioned that it's over 6 feet long!
I was able to achieve this great crackle technique on the top which was exactly what I wanted!!!  I'll do a separate tutorial on that soon.  I then added clear wax to the entire piece and then dark wax on top of that.  Isn't it amazing how dark wax changes the color?  Dark wax can be frustrating but the more I use it the more comfortable I am with it.  I always love the difference it makes.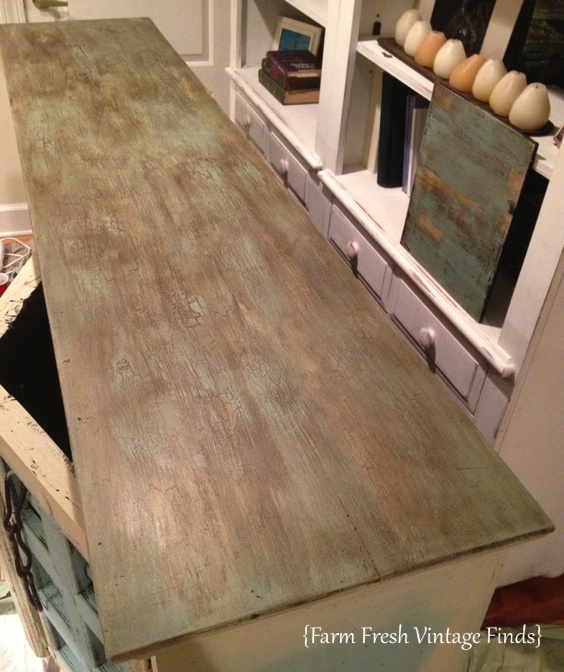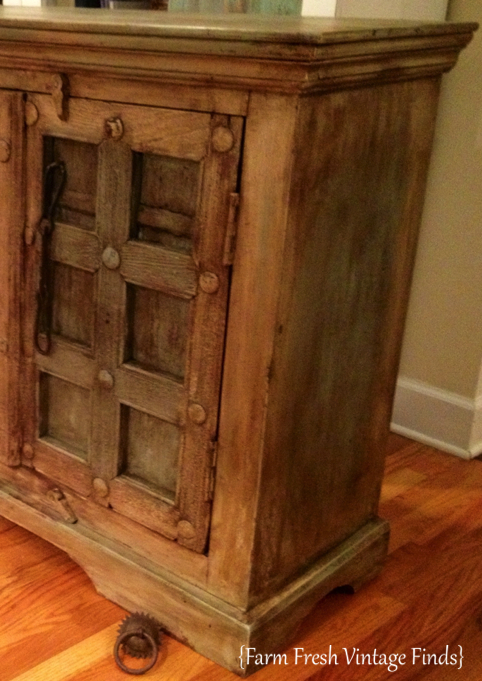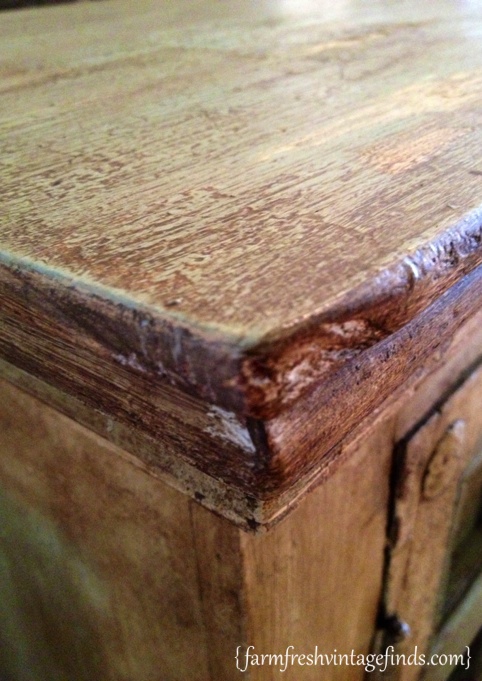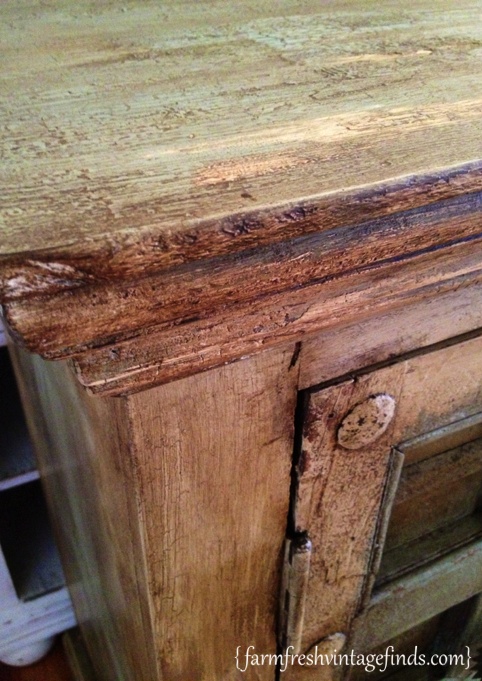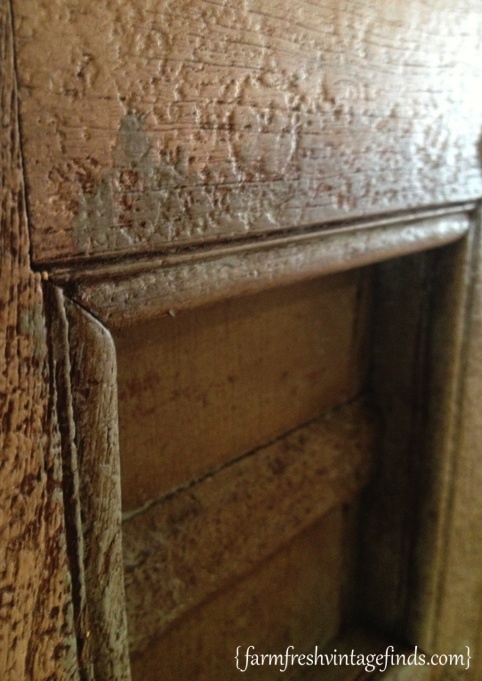 So here it is all finished and happily in it's home at my client's house.  So how do you think I did?  Would you/have you tried a technique like this on a project?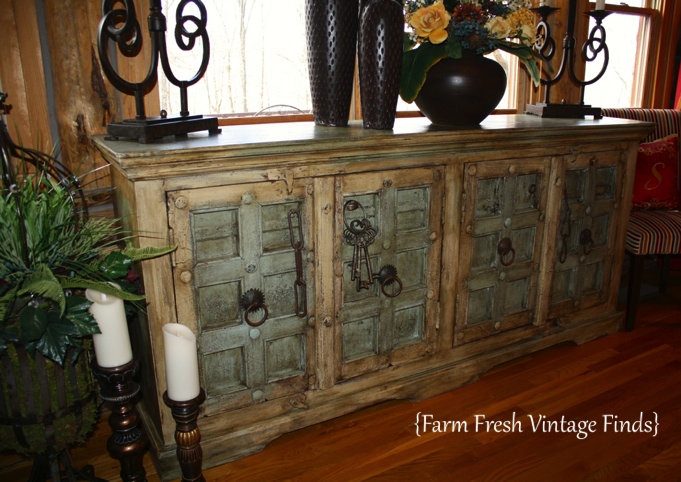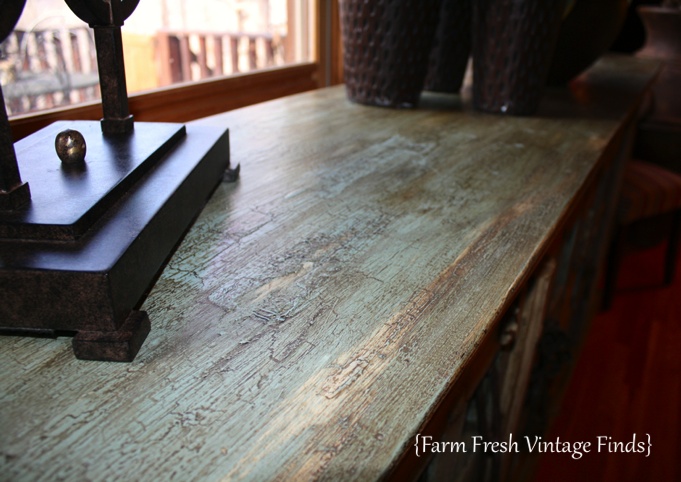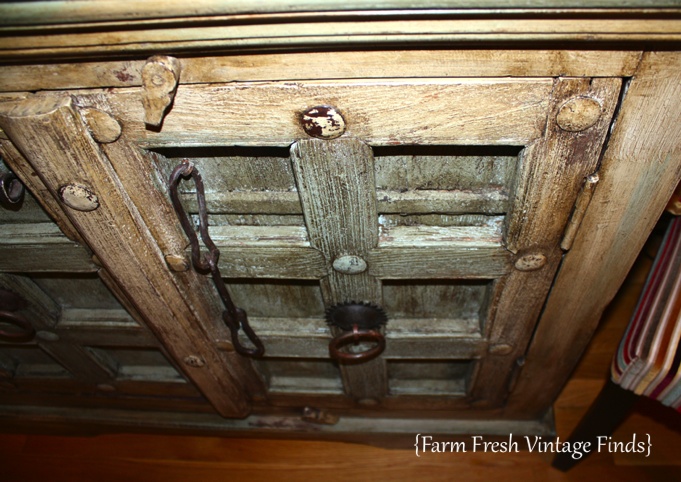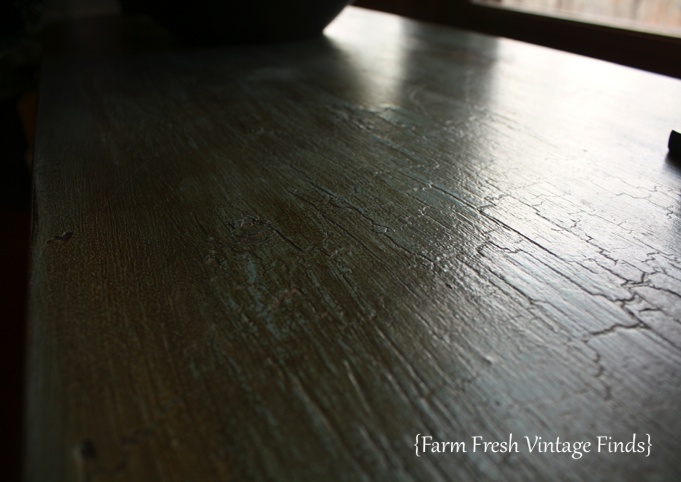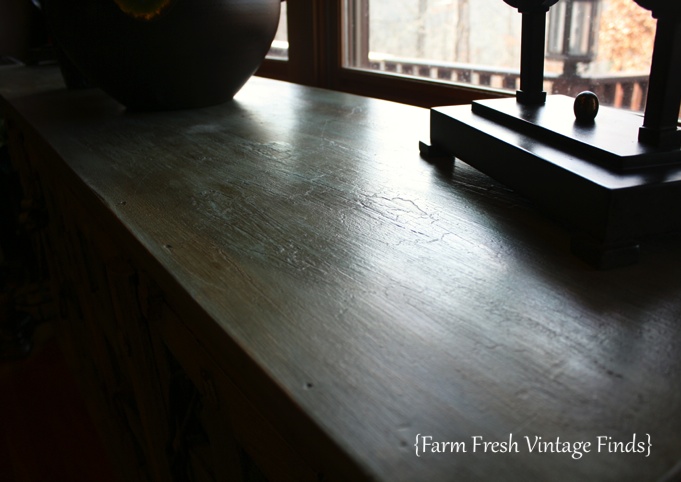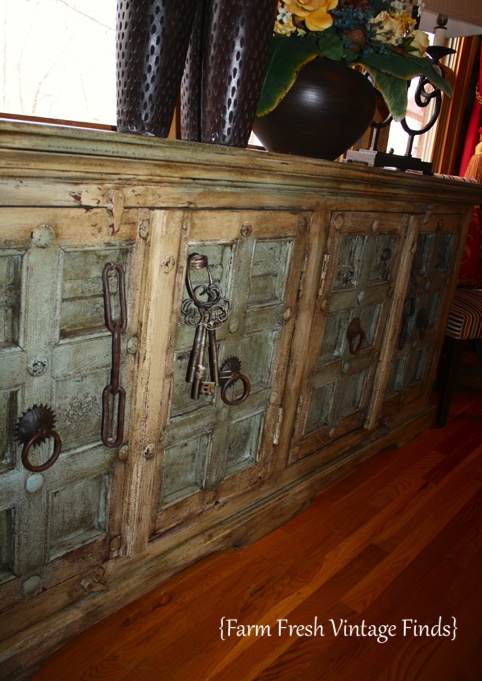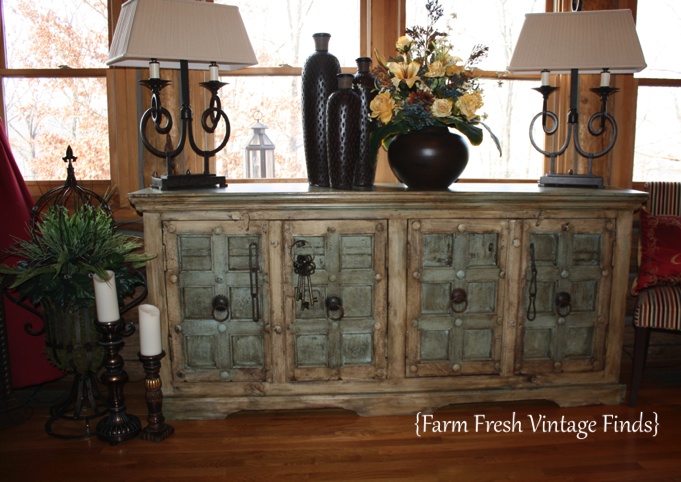 Do you have furniture you'd like to have painted?  Email me at farmfreshvintagefinds@gmail.com for pricing and details about custom work.
Thanks for reading and commenting below.
None found.