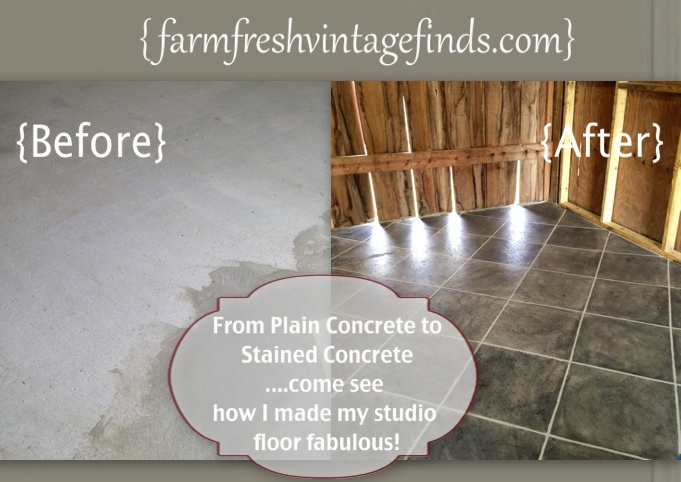 So in yesterday's post I left you standing in Home Depot crying out for help not knowing which stain to choose to stain my concrete floor.  I mean who needs all these choices anyway!?  I need simple friends.  Simple.  Good heavens I make things complicated enough on my own!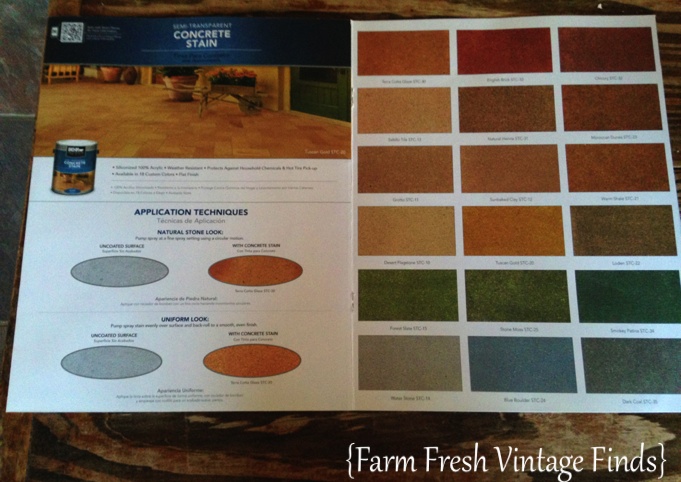 Enter in my daughter…."mom look at this!"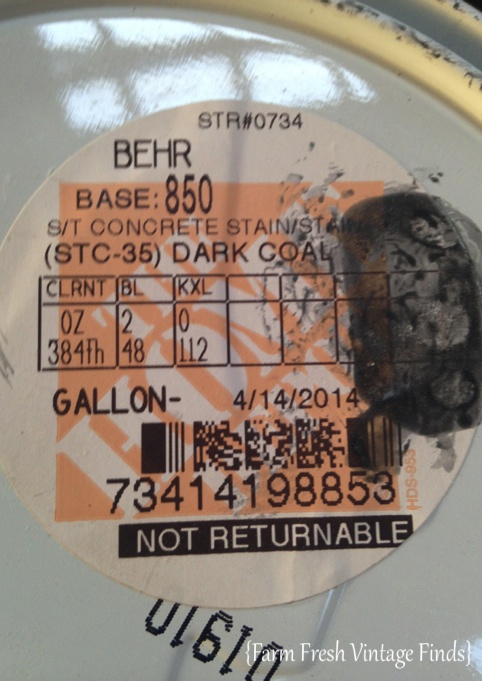 Could it be that my decision was already made for me?  Could it be that this gallon of "oops" semi-transparent stain was just sitting there calling out, I'm 9 bucks!  Pick me!  Pick me!  You don't have to tell me twice.  Game on!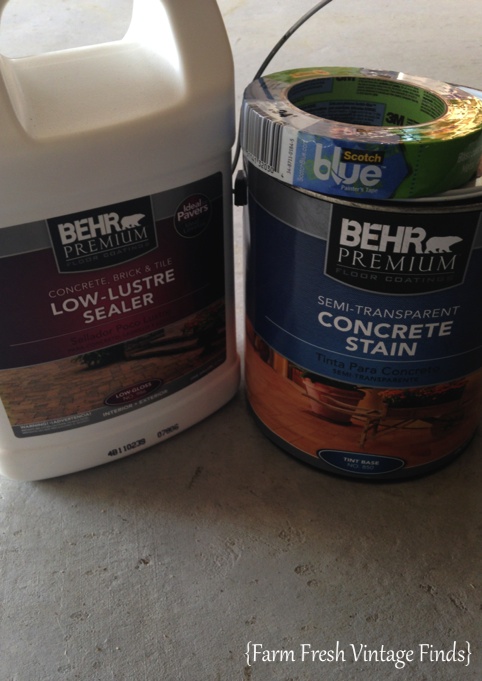 So off to the check out I went with Behr stain and sealer and Scotch Blue Painters tape in hand.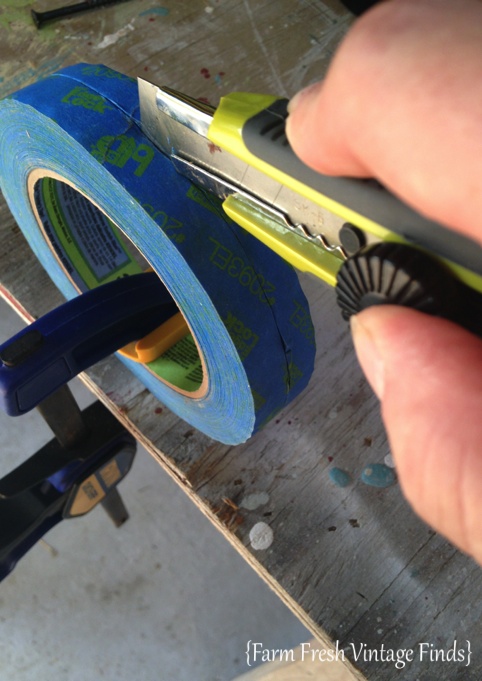 Once I decided on my pattern (18″ tile squares) I cut my tape to cover the existing unfinished concrete to make my faux grout lines.  I couldn't find the size I needed at the store so I just bought one close to double the size I wanted and planned on cutting it in half.  Now it's nearly impossible to cut tape in a clean crisp line with a box cutter, at least for this chick but that's ok because I wanted my "grout lines" to look….well….."natural" like stone.  Clean crisp lines are nice but honestly that kind of exactness adds more madness for me and let's face it at this point I'm just wanting to get this par-tay started!
Alright here's what I started with.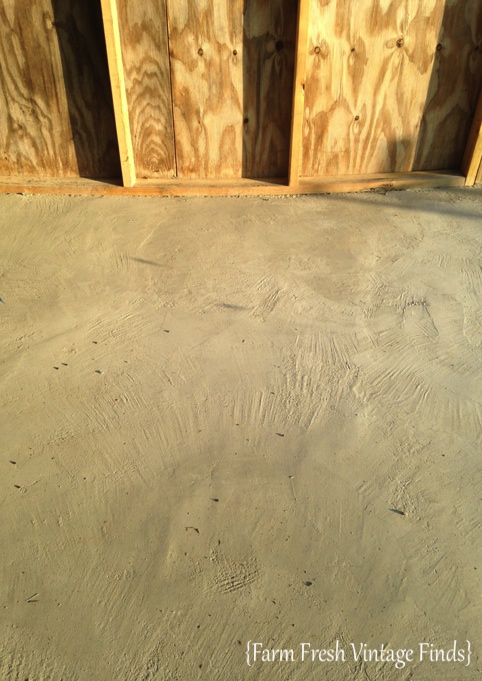 I made myself a little "tile" template from a piece of cardboard and used it as a guide to stick down my Scotch tape for my squares. I also used yard sticks for straight edges.  I started in the corner and placed my template on a angle because this pattern fools your eye and makes a room look much bigger.  (Little decorator secret there for ya.)  Trust me on this one.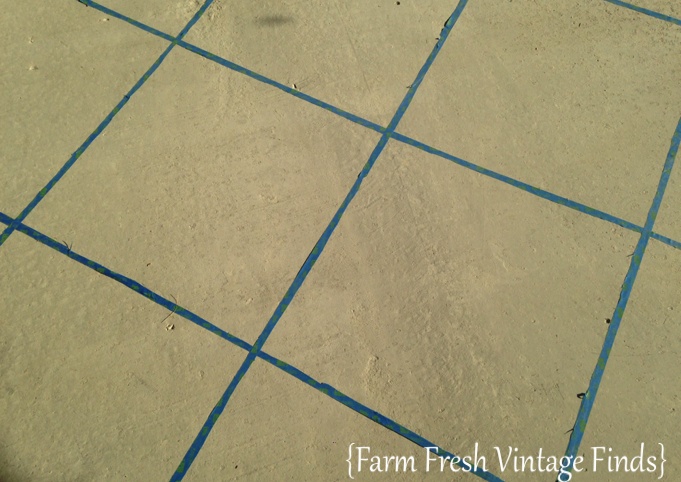 The directions suggest using a pump sprayer to spray the stain on.  I choose to use a rag because I am hardheaded and like doing things my own way I felt like I'd have more control over where the stain went.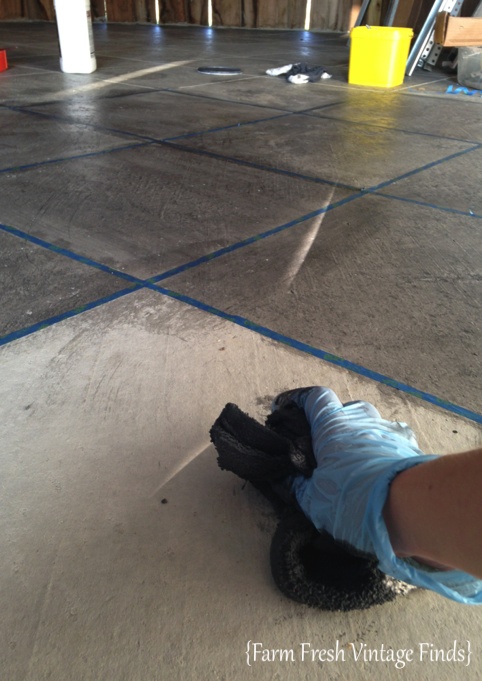 It went on and soaked in like butter!  Yippee!  I rubbed it on in different "patterns" some circular, some vertical, some horizontal.  Remember I was going for the look of tile so I wanted all of them to be different.  I put more stain on some squares less on others.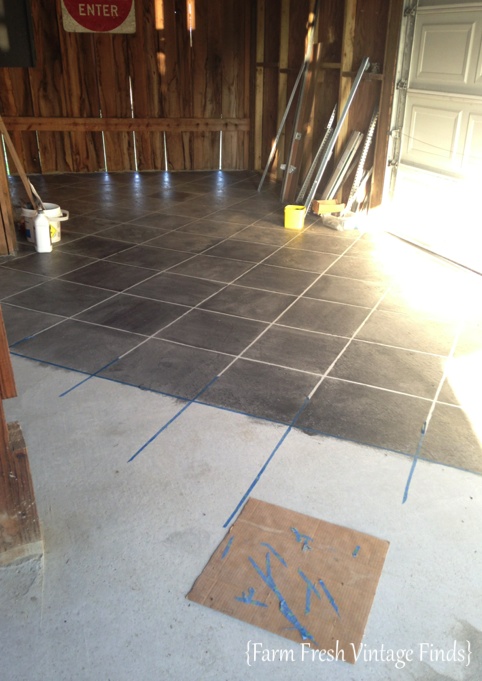 I removed the tape pretty much right away because I am impatient but also because the longer tape stays on the harder it is to remove.  This Scotch Blue tape is awesome!  Did I tell you that it stuck to porous concrete and helped me get the exact lines I wanted?  No bleed through!  Try it.  You'll lurve it.
The next day I sealed it with the Behr Low-Luster Sealer.  For the sealer I did use the sprayer and then used rags to really rub it in.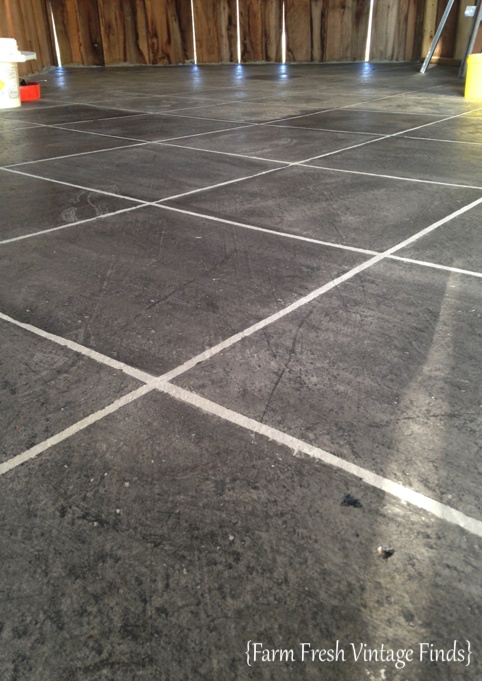 As you can see, my lines are somewhat varied and that's exactly how I wanted them.  I am completely thrilled with the end result!  I couldn't have asked for it to have turned out any better.  It's exactly what I wanted and even though it's going to be covered with sawdust most of the time, just knowing that all this prettiness is underfoot makes me happy.
Well there you have it my friends.  I hope this post inspires you to take a chance and try something new.  You never know what you can do until to try!!!  Feel free to comment with any questions.  I'll do my very best to answer all of them in an upcoming post.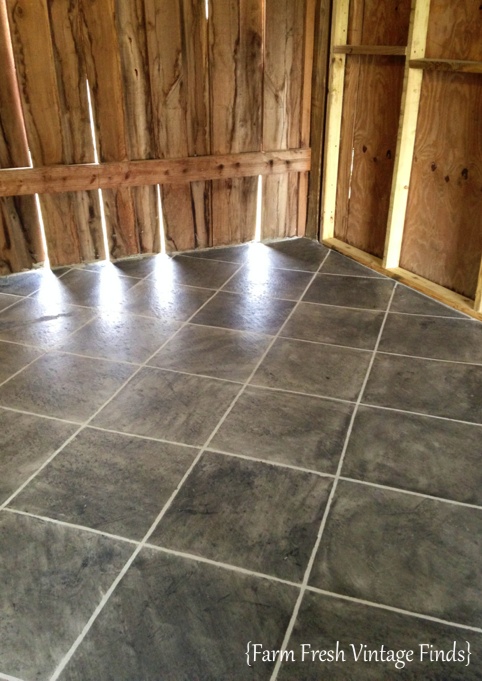 Click here to see how I stained my garage floor.
None found.