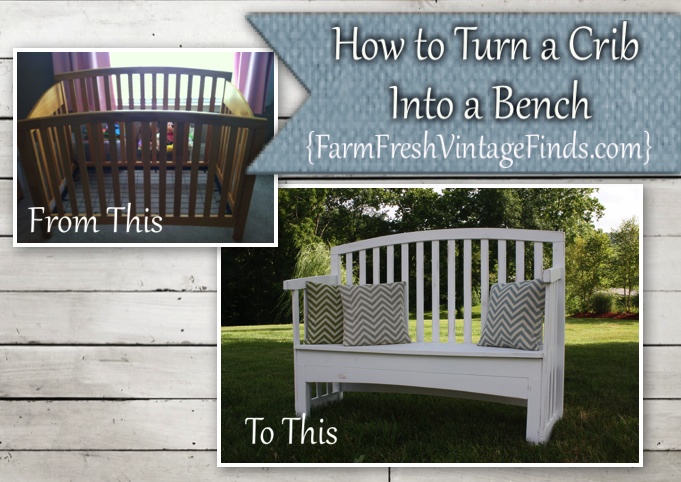 Hey everyone!  What's up?  Are you having a busy summer?  I know I sure am.  We've tackled lots of projects around the farm this summer.  It's hard to believe my kids will be starting school soon.  Do you get excited or sad when it's time for your kids to go back to school?  For me it's a little of both.  I'm excited because I know they love their homeschool tutorial.  But sad because that means my workload triples and we're one year closer to them being out on their own.  Bittersweet.  That's life though, right?  So I just roll with it!
For today's post I want to share with you how Prince Charming (aka hubs) and I transformed a no longer needed crib into a bench.  This crib was a drop side so it wasn't sellable or useable according to government standards anymore and my client really didn't want to throw it away.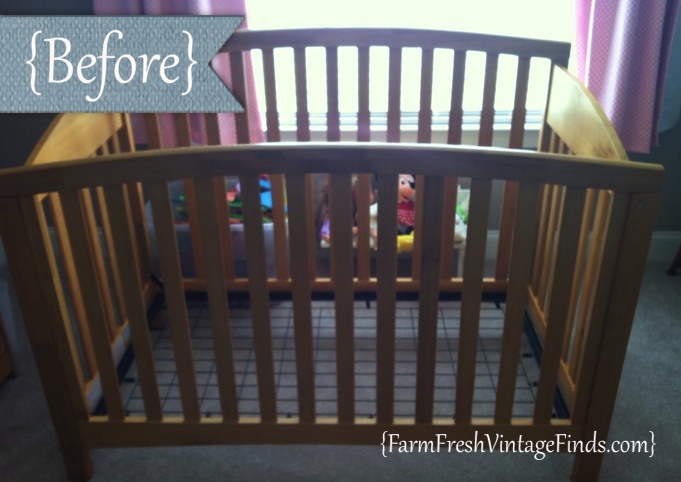 Here's what she brought me.  A solid wood crib in great condition.  I'm so glad she contacted me because her alternative was to take it to the dump.  NOOOOOOO!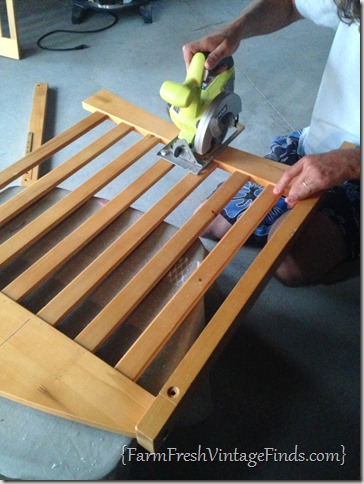 Prince Charming and I started by determining the depth we wanted the bench to be.  The average seat depth is around 17″ so that's what we decided to go with.  This number is pretty flexible based on how much room you want for your bum.  If you're going to try your hand at making a bench be sure and measure chairs around your house to see what you like to sit on best.
We cut the front piece of the crib (according to the desired seat depth) to use as our sides.  I wanted to use the sides of the crib by just trimming them down but oh no Prince Charming had an idea and we had to go with it.  I'm not gonna lie we "enjoyed" a little extreme over this decision but in the end I decided to trust the hubby cause he's proved himself in the past and I think he's basically brilliant so I knew it would work out.
You see Prince Charming was VERY determined to make a bench that didn't immediately make you think oh, look at that bench someone made from an old crib.  I just wanted to make a bench….WHEW!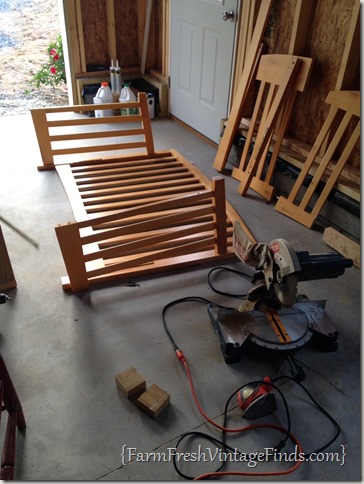 OK back to the ranch…..we the laid the pieces out on the floor to determine the size of the support box we'd need to build to hold everything together.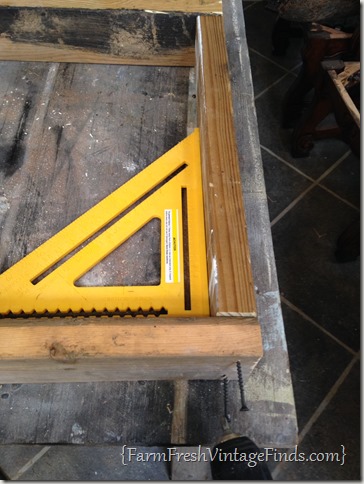 We then cut the pieces from 2×4's and screwed them all together using our square to make sure everything was well, square.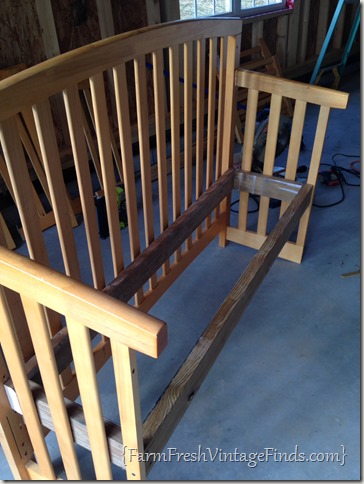 See.  This little rectangle we made is what holds everything together.  We secured it with screws and then used my Ryobi brad nailer to attach the vertical slats.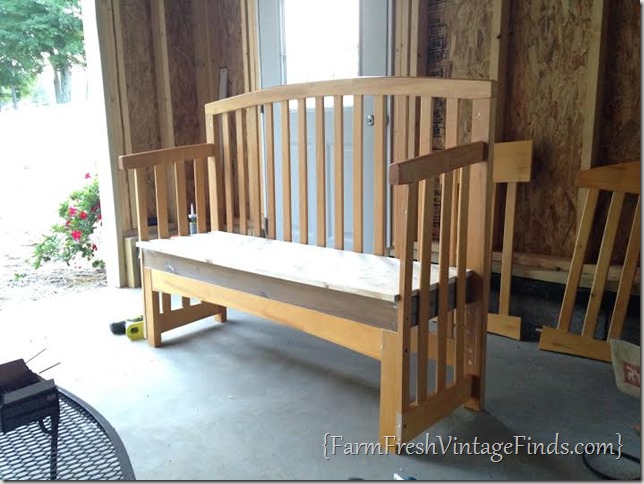 After that it was time to finish out the seat.  We bought a wide board from Lowe's that had already been glued together.  Trimmed it down to fit the seat and eureka!  We also used one of the left over pieces to add a little curved detail to the front.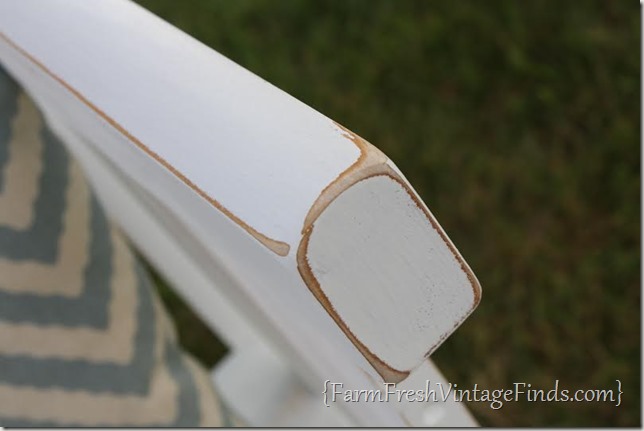 Next it was time to make it pretty with some white paint and distressing.  I used latex primer and paint from Sherwin Williams because it was handy (mind you I'm also painting kitchen cabinets during all this) and because I didn't want to wax all of those slats.  No thank you!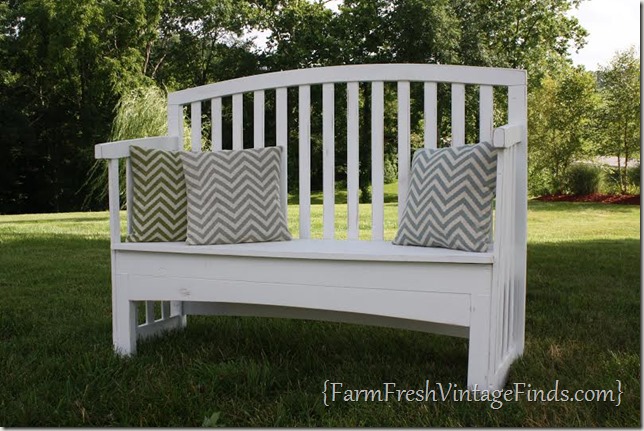 And here you have it.  A crib turned bench!  This was a fun project and my client was really pleased with the outcome.  She's going to put it in her daughter's room for now but told me she's happy to have a bench that will fit in any room of her home.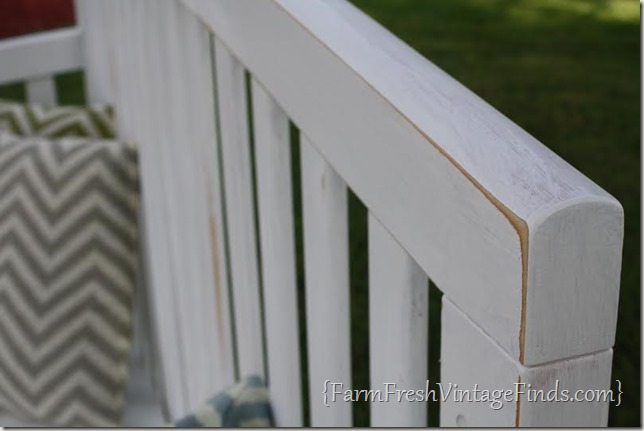 What about you?  Do you have an old crib in your attic or storage shed?  Go grab that thing and some power tools and make yourself a bench!  It's not as hard as you might think and it's a great way to take something unusable and create something useful for your home.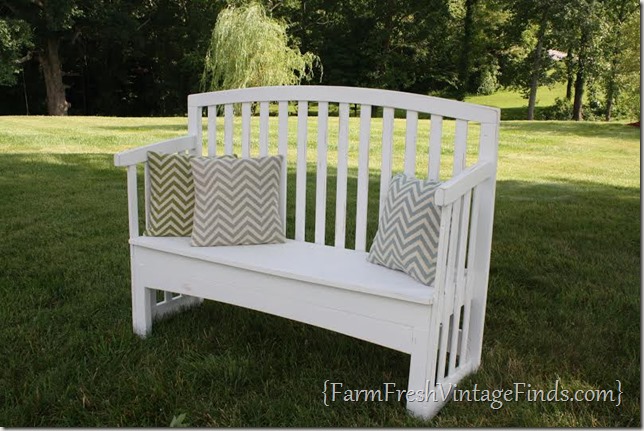 Do you have furniture you'd like to have painted or need something built?  Are you shopping for furniture and need help finding the perfect piece?  Email me at farmfreshvintagefinds@gmail.com for pricing and details about custom work and my current inventory.
Enjoy this post?  Don't forget to subscribe to get all the latest info delivered directly to your inbox and please check out my Facebook page.
Thanks for reading and feel free to comment below.  It only takes a second and helps me continue to create great posts for you!
~Beth
None found.